Rio Aconcagua "Salto De Soldado"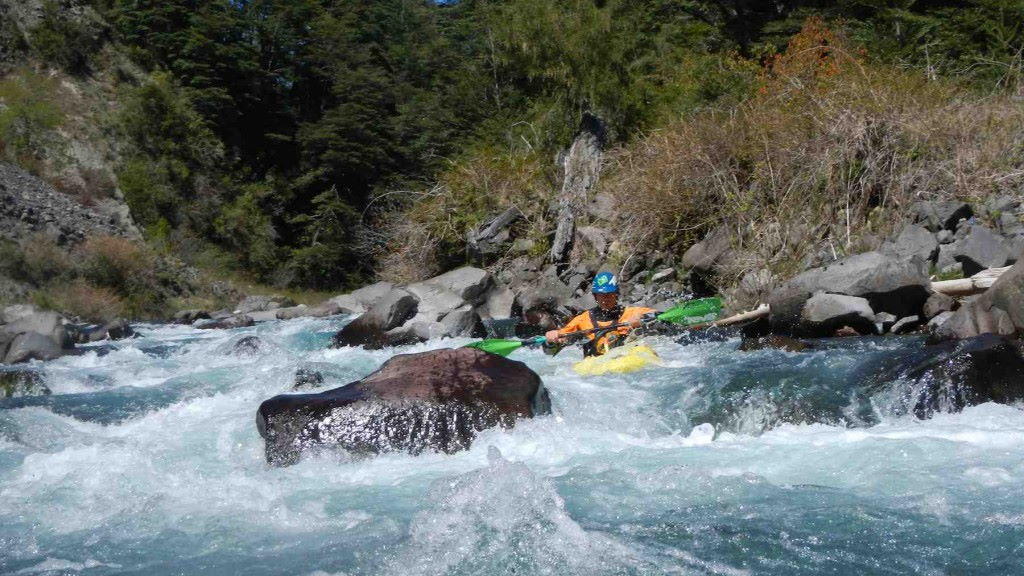 This description was actually written by kayaking legend Lars Holbek
Salto del Soldado canyon sports a wild class V+ run through a imposing, vertiginous chasm. According to Chilean folklore, a soldier once jumped across the canyon on a horse! The narrows is the crux of the run, undoubtedly one of the most difficult set of rapids in Chile. Paddlers would be well advised to run Salto del Soldado early spring or in the fall when it is much less dangerous and intimidating.
Portage around a small dam about 3 km downstream from the put-in. Below here, a few kilometers of swift, non-descript whitewater lead into the portals of the gorge. The intensity builds, culminating in numerous class V-VI drops that require careful scouting from the railroad tracks up above. A nearly dark, but relatively easy, exit from the canyon's depths marks the end of this Hadean underworld.

Exit of the slot canyon viewed from hi up on the road to Portillo
From Los Andes, 86 km north of Santiago, drive up the paved highway into the foothills of the Andes towards Portillo. Put in at the confluence with the Río Blanco elevation 1410 meters. To find the take-out, drive 12.5 km downstream from the town of Río Blanco to a road that provides access to the river at a wooden bridge at elevation 1110 meters. Along the way, be sure to peek into the abyss at the scenic overlook. If you venture upstream from Río Blanco, you'll find some runnable sections amongst all the class VI.
Ideally flows are 700 to 1500 CFS usually in spring and fall months. River is runnable at higher summer flows with significant 5+ action.