Rio Blanco (de Caburgua)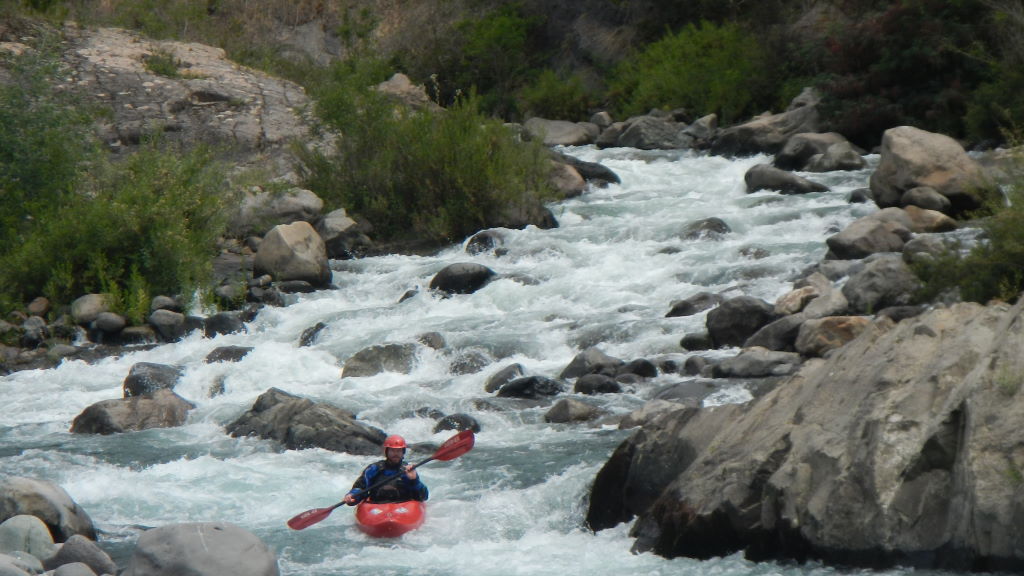 This novelty run is only for those curious folks who are in the Pucon area and have already done every river imaginable. It is one of dozens of rivers named Rio Blanco in Chile.
I first looked at this river in 1994 but it was almost impossible to scout. Although there is a road above the runnable section is in a deep tight gorge with lots of vegetation making it hard to see the river.

The boys on a Blanco portage
In 2004 I was back in the area with the LMV crew and took another look at it. Since it was not possible to scout, the decision was made to drop into the canyon and give it a go. We put in using a steep and very faint fisherman's trail that dropped to base of some falls at the confluence of two drainages. One drainage is the Rio Quililche and the other is the Rio Blanco 4-5 KM below the Termas de Rio Blanco. It is also about 6 km up from where the river enters the eastern end of Lago Caburgua.
The put in GPS coordinates are 39 degrees 4.776 minutes south lattititude and 71 degrees 37.961 minutes west longitude. The altitude at put in is 610 meters. The takeout is 2.5 KM away at confluence of rio Miraflores 510 meters elevation. the 2.5 KM run drops 100 meter or average gradient of 40 m/km or 200 FPM. It is low volume boulder garden type rapids with several portages due to log jams.
We ran river in December and even though it was small we figured it was probably a relatively high water level. I returned in low water month of Feb. 2009 and was surprised to see it had the same level as years earlier in the peak summer run off. In summary the river seems to have a runnable flow throughout spring, summer and into fall.
The class 4 rapids offered some excitement but it was more of a canyoneering experience down in a deep slot. I would highly recomend the nearby Termas de Rio Blanco hot springs or the hike from there up thru Huerquehue National Park to the other side of the lake.
To reach the river from Pucon you can go east to Currarehue then up past Regolil or you can go west to Villarica then north and eventually turn east and follow the north shore of Lago Colico.