Rio Blanco (de Maule)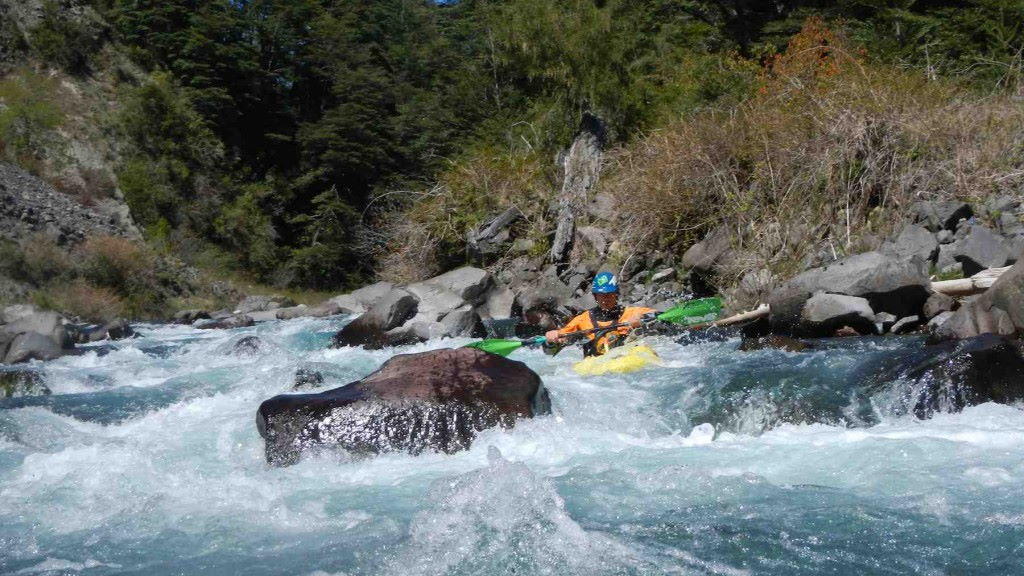 This rare wilderness run is a tributary of the Maule and located in the heart of Central Chile. It is surrounded by many well known runs yet to my knowledge has only been run once. The river flows of the southern flank of Volcan Descabezado Grande whose elevation of 3830 meters makes it a dominant peak in the region. Another very famous Rio Claro flows off the west side of this same peak and contains the "not be missed" classic sections of the Siete tazas and veinte-dos saltos (7 teacups and 22 falls). Volcan Descabezado means "headless volcano" as in a previous eruption the complete top of the mountain was blown to smithereens. I got on this run on October 31, 2000 with Josh Lowry and Rafa Parot in full spring flow.
Getting a chance to run this river involves some work. The first thing is to arrive at the take-out which is the Puente Claro in the small town of Amerillo located is in the Maule valley. To get there from the Pan American highway leave Talca (259 KM south of Santiago) and go east thru San Clemente on the paved road to Embalse Colbún. When you reach the wooden Puente Claro you have found the take out. (Locals call it Puente Viento) To figure out put-in logistics return to the restaurant on the west side and ask where you can find Alejandro Via Lobo or Pacho Quintano (the second is known locally as Juan). These guys have horses and live in an A frame house approx. 2 km above the restaurant. We agreed to pay 20,000 pesos for 2 horses for the day. One horse carried all 3 kayaks and the other was for Juan to ride fresh on his return. We started at 8 AM the following day and walked behind the horses. The trail was good but steep in some places with many creek crossings. Approximately 20 KM upriver we came to the only house one sees on the whole trail. It is at a point very close to the base of Volcano Descabezado where the river splits into the Blanco and Blancillo. The elevation is 3200′ and the flow was approximately 600 CFS of cold gray water. The river is very continuous in nature with class 4-5 drops. The descent took 3-3/4 hours with a few scouts and one portage. The best rapids were found in granite walled mini gorges.
We were cold at the end but excited to have finished another great Chilean first descent.
Note: Just below the bridge is the remains of a broken weir which appeared to have terminal hole. Make sure you exit just upstream of the bridge as drifting into it could prove fatal.
Note 2 Other good runs in the area are the Ancoa, Maule, Achibueno, Melado. Topografic map for area on 1:50,000 scale is title Talca.
Kurt Casey