Rio Blanco del Enco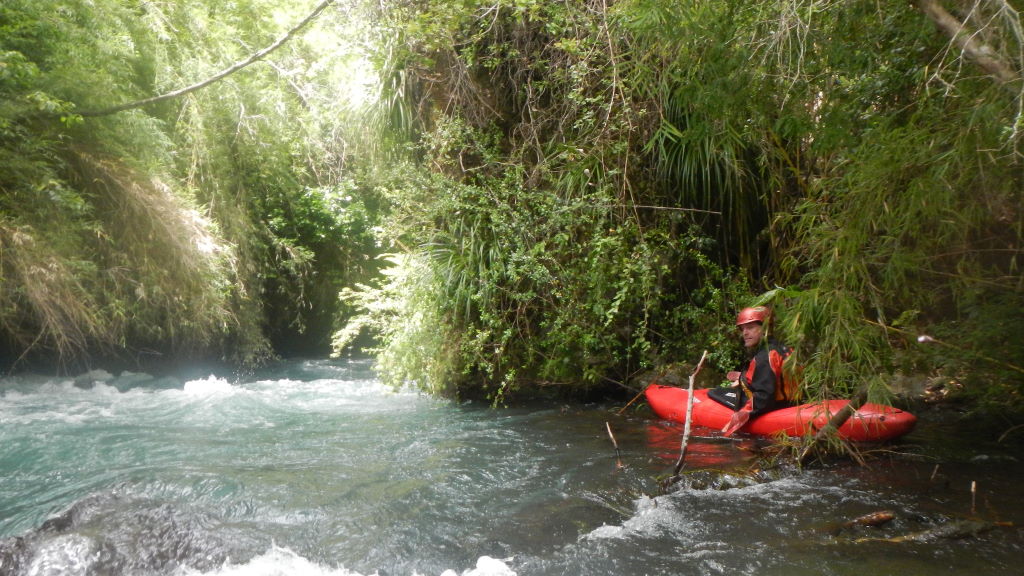 Flowing off the Western flank of Volcan El Mocho (2422 meters) in Chile´s 14th Region de Los Lagos is a fun, springtime, steep-creek. The river is fed by crystal clear snowmelt with a short springtime season. The class 3-4 creek is very steep with average gradient of 42 m/km (210 FPM) and requires very little water. Too much water (> 300 CFS) will make for a class 5 bob sled run. The river feeds into the Enco river which drains Lago Pangupulli into Lago Riñihue.

Looking for a place to put in
To reach the river go 49 km East from Lanco on Ruta 5 to Panguipuilli then east another 41 km to Choshuenco on the eastern edge of Lago Panguipuilli. Upon reaching the lake turn left and go south 10.9 km alongside the Enco river valley to Puente Rio Blanco. This is takeout at 125 meters elevation and GPS coordinates 39.908486° latitude and 72.149124° longitude.

Scouting on the Rio Blanco
To reach the put in continue 200 meters past the bridge to gate on your left. If the gate is open you are lucky and can drive up the farm road but most likely it will be locked and from here you shoulder your boat for the 3-1/2 km hike in. After about an hour of walking the road turns into more of a track and at one point (just before another wooden gate) a faint track veres off towards the river and provides a sketchy trail down to the river put in which is at GPS coordinates 39.896537 latitude 72.125368 longitude elevation 260 meters

Blanco whitewater

The put in point is 300 km below what the locals call ¨La Escalera¨ which is a most likely un-runnable 15 meter falls flowed by some class 5+, 6 whitewater. Accessing this rad stretch is almost impossible due to vertical walls of the canyon and dense undergrowth.

Blanco falls

Rodrigo Tuschner bashing his way to the put in


Class 6 Gnar stretch
Total drop on river is 135 meters in 3.2 KM for 42 m/km average (210 FPM). The gradient is concentrated in the first half then relaxes considerably so actual drop in upper stretch approaches 60 m/km but with mature, boulder choked bedrock river is very manageable.

Volcan Mocho
Other nearby rivers include the Fuy, Neltume, San Pedro (soon to be dammed), Llancahue, Reyehueco and Llizan
IGM Topo map for the area is titled Choshuenco G122

Section of top map