Rio Blanco Del Sur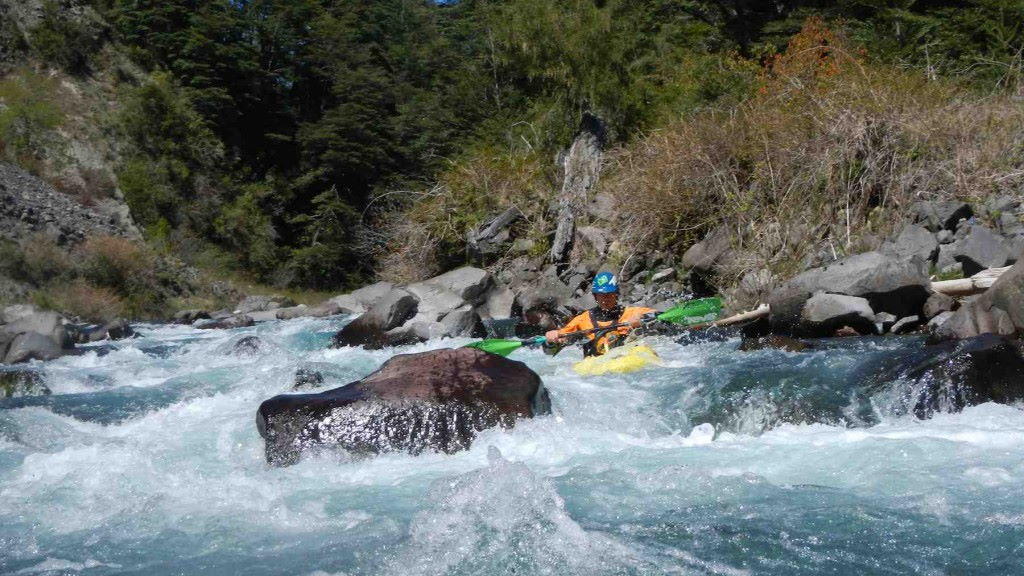 The Rio Blanco Del Sur near Curacautin has a fantastic 10 meter drop that has a very long season,
can be done as a park 'n huck, and is day trip distance from Pucon. The falls itself has a nice
rolling lip and a big pool afterwards. Some solid teamwork helps a lot with getting boats
out of the gorge afterwards, but it isn't too difficult. Most people who come here will likely do
a couple of laps. This falls is perfect for practicing freefall technique.
A perfect drop
There is a small entry rapid that looked too tight at the levels we were there at, but it may clean up
with more water. There is a nice seal launch spot below the rapid with an eddy you can catch before
taking the plunge.
We were there on December 28th, and the falls had a decent amount of water. It could be run with less
water than that, and it could certainly be run with a fair bit more. More water would make it even
nicer, but chocolate-coloured raging flood wouldn`t be ideal. A fantastic trip would be to come earlier
in the season and combine this drop with some of the other river sections in the valley, such as the
Cautin when they are at nice flows, Dillo, Blanco de Cautín, Captren,Calbuco and Quepe. At times of low
flow it could be combined with the Truful-Truful as a nice overnight trip from Pucon. The Truful has good
summer flows, a burly rapid for those inclined,and the drive from the Truful to Curacautin through Parque National
Conguillio is gorgeous.

A big pool to pick up the pieces
To reach the falls, take R-925 South from Curacautin (this is the road that goes to Conguillio National Park).
After about 13 km you will pass the bridge over the Blanco Sur. The bridge is marked as such. Immediately
after the bridge turn right onto a gravel road. After a few hundred meters there is a tiny road on the right
leading into the forest. After weaving around a few firepits you come into a field. Follow the left vehicle
tracks to the end of the field, and then make the 30 second walk to the falls. The satellite image is probably
better than text for wrapping your head around this last bit.

The entry rapid, seal launch spot, and the eddy
Judging by the amount of beer cans present this is likely a locals hangout spot, so perhaps you'll have a cheering crowd.
The coordinates of the drop are 38.515409 S, 71.838663 W