Rio Caunehue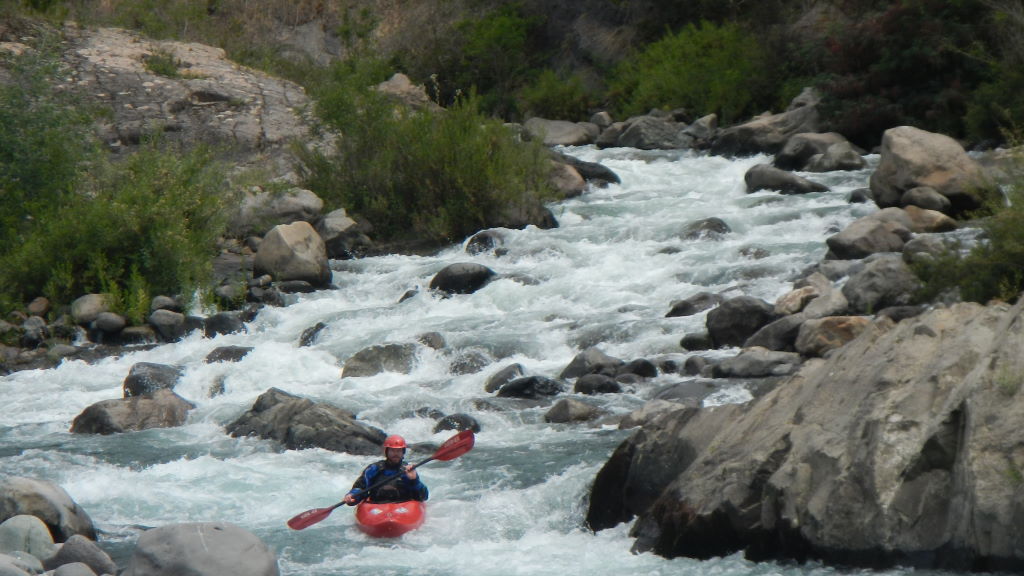 A short burst of paddling in the Futrono Zone. Best during highwater springtime run off or after periods of sustained rain.

Caunehue whitewater
This short class IV+ stretch is on the northern shore of Lago Ranco just east of the town of Futrono in Chile's recently created Region XIV aptly called Region de Los Rios.

Slide drop
To reach the put in while traveling south on Ruta 5 exit 17 KM south of Los Lagos and follow a good paved road 44 km to pleasant town of Futrono. Continue east around the northern shore of the lake to the first major bridge which is over the Caunehue. This stretch of river is found while on the way to the Florin, the Curringue or the Saltos De Nilahue.

Caunehue Canyon
A slide will be visible upstream from the bridge and this is the put-in. Leave your car near the bridge and hike upstream on river left. Run the first slide on the left to avoid a nasty undercut and siphon on the right side of slide.
Directly after the slide you enter the beautiful canyon seen looking downstream from the bridge. Make sure you get a good scout from the bridge beforehand.
It's a massive ramp from the right to the left with a nasty undercut on the right and big hole on the left, take speed and follow the main line of water!!!
After this the river goes left and you can not scout it but it is a class II rapid!!!!
The next 2 class IV+ rapids you can scout it from the left. Start the first one on the middle left, go right of the big rock in the middle, boof right and stay middle left. Run the second rapid far left then you will have 2 more class III rapids.
The takeout is a rocky beach on river left where you can see a house on the hill. Follow a trail to the house then back to the bridge to collect you car.
Don't forget, when you run the first slide, you are committed to run the remainder of the canyon.
In a fairly high water year in early December 2009 we ran the 1 km stretch of river with approximately 900 CFS (30 cumecs)
Fotos by Jakub Šedivý