Rio Cautin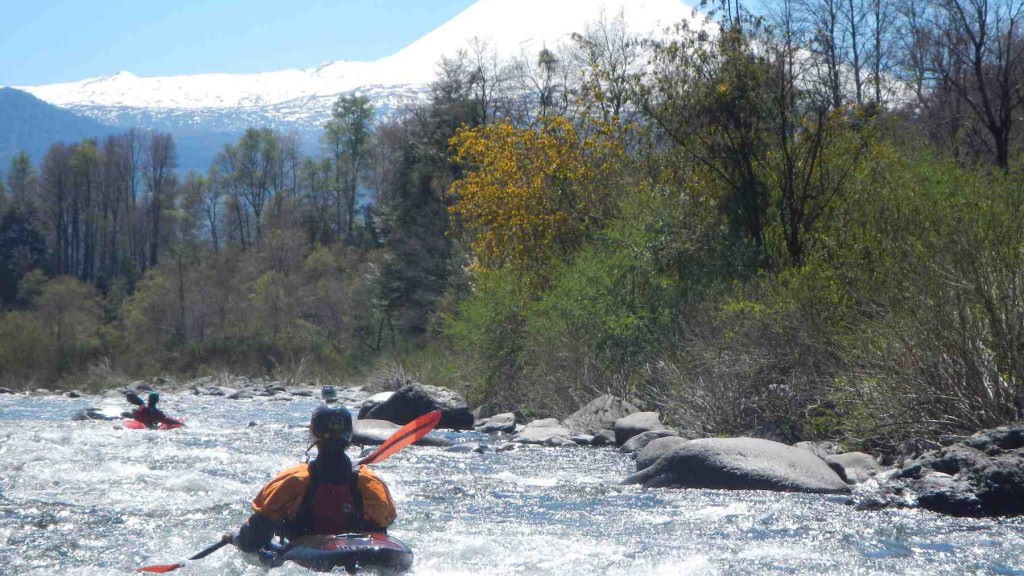 This is a 9 km run with a drop of 124 meters or average of 16 m/km (80 FPM). Best run in spring or early summer when flows exceed 700 CFS but can also be run well into summer at lower flows. The river originates from the snowfields on Volcan Lonquimay 2865 meters so the water is always cold.
The emerald waters of the Cautín (Mapuche for "very green") make for an interesting day of kayaking. Densely forested canyon walls obscure the challenging whitewater found below the rim.
To reach the takeout from Victoria, 614 km south of Santiago, drive east toward Curacautín. The standard takeout is at Puente Manchuria 651 meters above sea level which is at km marker 68.5. On the other side of this swinging bridge is a campground and a hospedaje owned by a German kayaker that does occasional raft trips starting at Puente Manchuria. The hospedaje is called Andenrose with website www.andenrose.com and the owners name is Hans Schondorfer. They have a very nice restaurant and if you are stuck without a shuttle driver you might be able to work something out with owner so your vehicle is waiting at takeout when you get there.
The standard put-in is at Puente Salto de La Princess elevation 775 meters. Exit the main paved road at KM marker 77.7 and follow it 800 meters down a gravel road to the bridge over the Cautin.. Here there is also some rustic camping and restaurant and cabins along the river. The 20 meter falls "Salto de la Princessa" enters from side stream. It looks tempting and has been scouted and comtemplated by many a waterfall huck but to date has yet been run. Put in here and start the 9 km trip. On the descent the whitewater is mostly class 2-3 in this section with the notable exception of one class 3-4 basalt walled canyon. 3.5 KM into the trip you will pass the Termas de Manzanar which feature some okay large pools in a commercial setting. 4.2 km below you will pass under a swinging bridge with a hosteria on the other side that can serve as takeout or alternative put-in. At 7 km you pass the Salto del Indio which cascades in from river right.
For a longer trip with more difficult whitewater and one distinct long class 5 drop put in ½ km upstream of the bridge at km 81 or elevation 860 meters. This additional 3 plus kilometers is steeper with average drop of 26 m/km or 130 FPM. This upper stretch
begins slowly with occasional class III rapids interspersed with meandering flatwater. About 1 km in, the drops become more numerous and increase in difficulty. When a maze of rocks appears approximately 500 m above Puente Salto de la Princesa, the bottom drops out. At high water, portage the log and boulder-choked maelstrom on a narrow terrace 10 m above the river on the right.
Nearby rivers include Traful-Traful, Quepe and the Queuco. This area is on the way to those traveling to/from Argentina through the international pass called Pino Hachado" and is also en route to the still free flowing headwaters of the now dammed Bio Bio River. An interesting sidetrip is a drive up to the Lonquimay Volcano or to the town of Lonquimay through the old road climbing among Araucaria trees on paso "Los Arenales".
It is also only 2 hours to Pucon by paved roads from the takeout. Although very commercial the "Termas de Malalcahuello