Rio Clarillo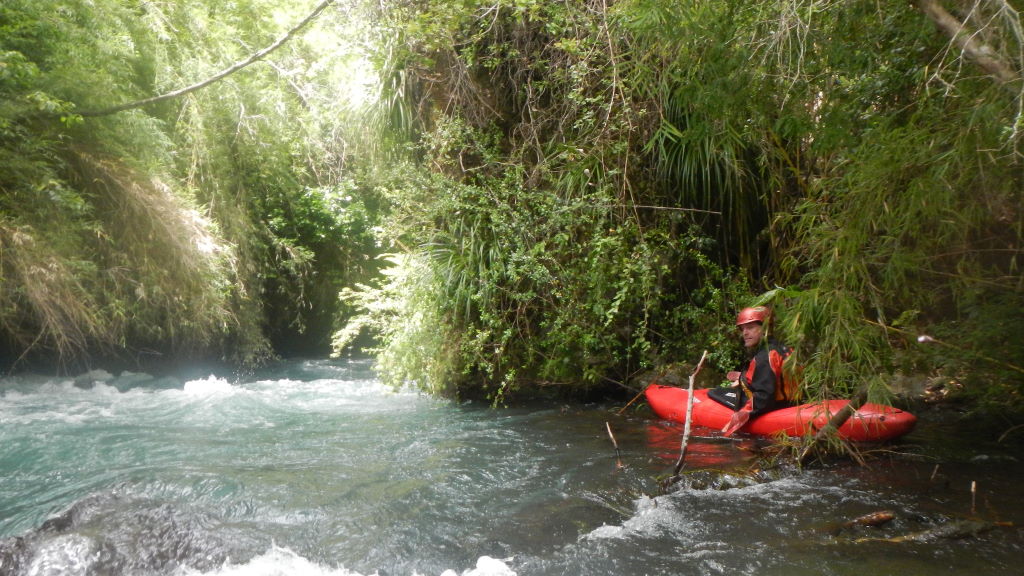 The Río Clarillo is a high-quality springtime creek run in the Santiago area. The beauty of the Clarillo (like its name implies) is its crystal clear waters tumbling unimpeded over granite boulders. Unlike the other runs in the Santiago area, the Clarillo has clear water without a dam upstream.

A typical drop on the Clarillo
The river is short but sweet and can be done several times in one day and enjoyed by class 3,4 and 5 boaters alike. With no portages and boat-scoutable drops it is a natural choice for first time creek boaters with a solid roll.
The river lies entirely within the boundaries of Parque Nacional Río Clarillo, which has successfully protected a spectacular desert environment from the ever-encroaching megalopolis.
The river is rated Class III+ and flows in winter and spring with optimal flows 200-400 CFS (although higher would be no problem only pushier and solid class IV).
To reach the river from Santiago take Avenida Vickuña Mckena south out of the city to community of Puente Alto. In Puente Alto turn left (east) on any road and go a few blocks until reaching Av. Concha y Toro. Turn right (south) and cross over the Maipo River on Puente San Pedro and go to "T" intersection in community of Pirque. Turn right following sign to Los morros and go 1.5 KM to the statue of Virgen and go left following signs to "El Principal". Continue staright (5.6 km) passing over a small creek on Puente Blanco until a small sign is reached for Parque Clarillo. Turn left and continue 1.4 km to another "T" intersection and turn left. Go 3.7 km to the National park office. Here you will be charged (2500 pesos at time of this writing) for each person entering the park. Proceed 3.6 km on a the now dirt road thru a white gate and use the parking area here for sector Maitenes as the takeout. A good trail leads to the river.
The put-in is 3 km upstream at the end of the road in Sector Rodeo. Another good trail leads to river
The visitors center at the takeout has an interesting display of the local flora and fauna. There are also a few short hikes within the park and plenty of areas to have an afternoon asado.