Río Claro (Los Queñes)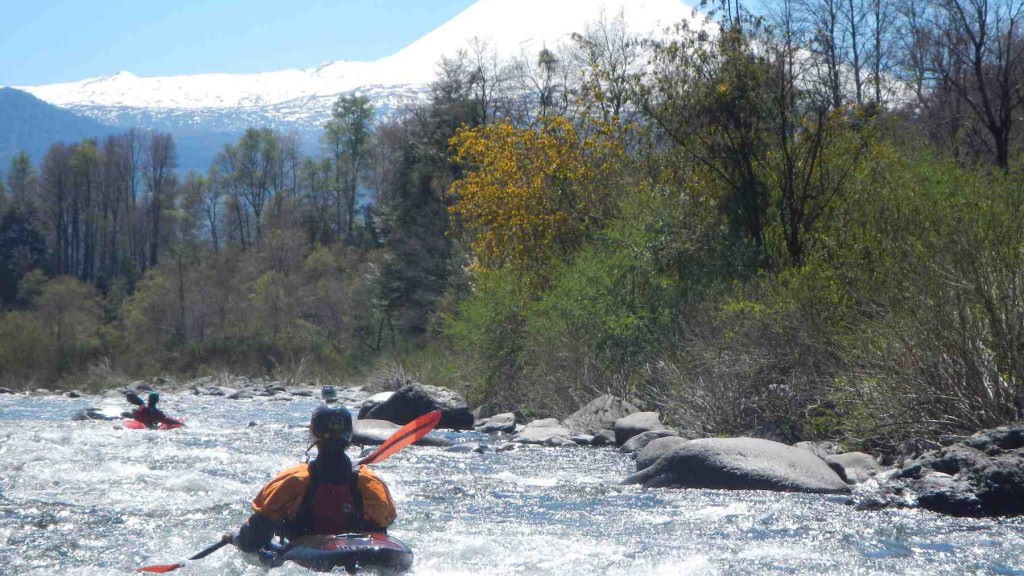 This Río Claro was the former training site of the U.S. Olympic slalom kayak team. The gringos are gone, but a few of the slalom gates remain upstream of Puente Los Queñes. Even if you're not a racer, it's fun to eddy-hop your way through the intermittent boulder-garden rapids. If you paddle below Puente Los Queñes, you'll find some wave trains to surf downstream on the Río Teno. You can take out anywhere along the road that parallels the river.

Shuttle vehicle on Claro
In February 1991, eruptions from the volcanic complex of Planchón (3977 m) and Peteroa (4101 m) 35 km southeast of town on the continental divide, killed large numbers of fish in the two rivers. Los Queñes' water supply was also temporarily contaminated.

Confluence of Claro and Teno
From a couple of kilometers north of Curicó, 191 km south of Santiago, drive east 46 km through Romeral to Los Queñes. From the center of town, drive up the east side of the river. After securing permission, continue through private property and a gate 9 km to the put-in at elevation 775 meters where a trail can be found down to the river. Beyond this point, this cruel joke of a road deteriorates into a 4-wheel drive track, but may be worth the effort for the potential class V action upstream. Takeout at Puente Los Queñes 675 meter. 

Late evening put in on Claro

Just a few hundred meters west of Puente Los Queñes you will find Hosteria Los Quenes run by Todd Ericson of Chilean Adventures. Todd can help shuttles and even with the locked gates. He operates a well run, boater friendly hotel with a quality restaurant and hot tub. Contact info or info@chileanadventures.com cell phone 95133193 He does raft trips on the Teno and also rents creek and/or playboats for the kayakers.
This 9 KM stretch is class 3 and best run in spring or early summer with flows of 900-1200 CFS and average gradient of 11 MPK or 59 FPM.