Rio Cochamo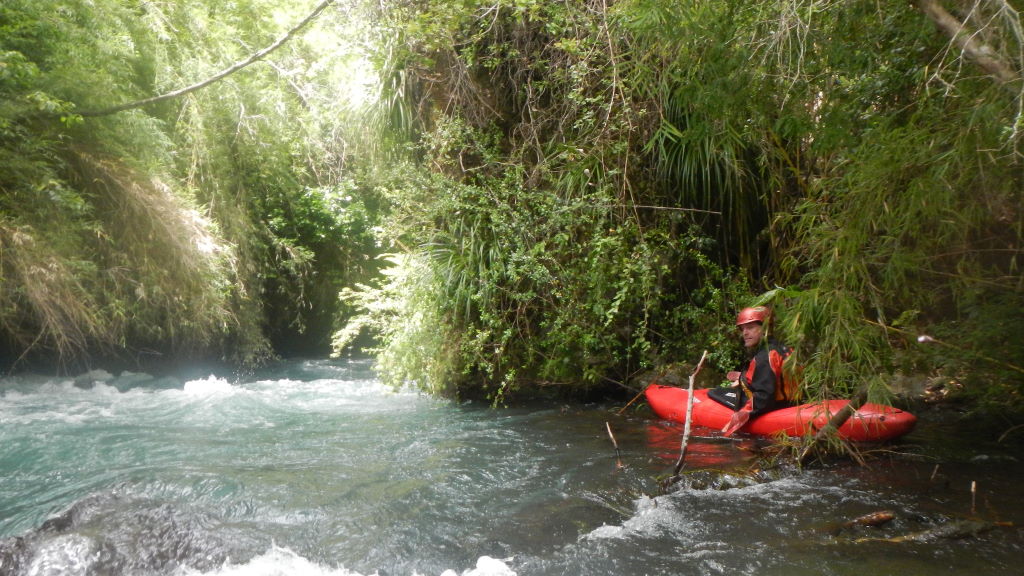 A trip up the Cochamó valley is an incredible experience. Tumbling from the massive granite domes of Cerro Torrecillas (2164 m) and Cerro Cuernos Del Diablo (1920 m) is one of Chile's most extreme kayak runs.
For the true adrenaline crazed boater, The Cochamó river will provide the goods as it plunges the final few hundred meters to the ocean. On December 7, 2008 I hiked up the valley with the DEMSHITZ crew who described the river as more intense than the lower 9 on the Middle Kings.
Dave Fusilli boofing early on the Cochamo
Getting up the river is also an experience. First you need to reach the coastal town of Cochamó. From the north of Chile it is best to exit Ruta 5 Pan American Highway at Puerto Varas. From here it is roughly a 1.5 hour drive through Ensanada and Relún to reach Cochamó.

Beautiful Cochamo valley
Continue south out of town for a few KM until you reach a bridge over the Cochamo River. You can take out here but you can also continue upstream another 5-6 KM to the end of the road. Here you can leave a vehicle in the shade and begin the hike, load the horses, etc.

Dave Fusilli in the granite playground
From the takeout it is 5 grueling hours of boat hiking or you can secure some horses (highly recommended) which also involves a 5 hour trip.

Cochamo Campfire entertainment
On our trip we used locals Gabriel Gonzalez and Lucho Rojas to get our gear up the valley. Gabriel's house is the fourth one between takeout bridge and town of Cochamó. Gabriel can be reached via cell phone at 90856328 or via his son Gabriel Junior 97883723. We paid just under 14,000 pesos per horse which included Gabriel's and Lucho time. We put 2 boats on each horse plus a few small bags of boating gear. We also camped on Gabriel's land after descending from the upper valley.
I would highly suggest camping at least one night in upper Cochamó valley before making the 8 hour kayak descent. The logical put in is at La Junta where you can boat or slide on your ass down a 100 meter granite slide. There is also rustic camping and a refugio operate by a Gringo named Daniel that caters mostly to rock climbers visiting the surrounding Yosemite like domes. you can visit their website and learn more about valley at www.cochamo.com
We ran the river on December 7th after several weeks of dry weather. It seemed like we had a perfect flow of around 500-600 CFS. I have heard of several aborted trips due to low water. These trips were in January and onwards. Based on the this info I can only guess that ideal flows are found in month of December.
The Tabanos (horseflys) can be absolutely viscous so a suggestion is to bring lite pants for the hike to save your legs from a beating.
Once on the river there is several KM's of flatwater until you literally fall off the horizon line. Once the action starts it does not let up for several KM. There are countless class 5, 5+ rapids with interspersed sieves and occasional logs to keep one on their toes. All portages were done on river left sometimes in the trees above the water line.
In our group a few of the extreme boaters did the run with 3.5 portages and they figure one of those was runnable.
When in area it is good to visit Petrohue on way south and after running Cochamó continue south to hit both Río Negro and Blanco in Hornopiren area.