Río Colorado (Lontue)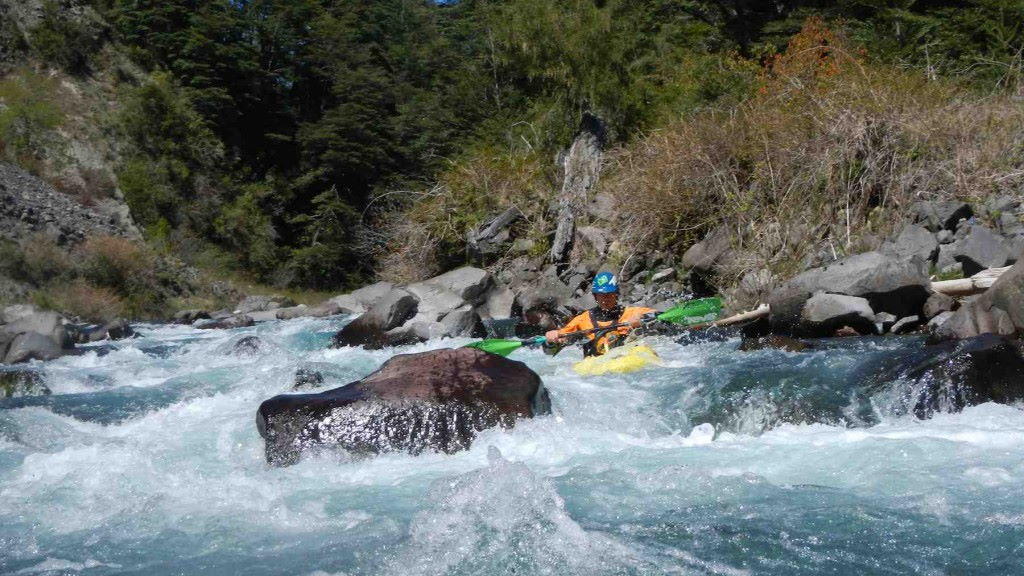 Vertical ramparts of columnar basalt tower above the Río Colorado, the Lontué's major tributary. Compared to the Lontué, the Colorado is cold, turbid, and a much greater whitewater challenge. Coursing through sequentially layered lava flows run amok, the river cuts a sinuous swath through one of Chile's coolest canyons.
Excellent rapids are found throughout the run, with the best drops situated near the confluence of the Lontué chocked full of big granite boulders. At a low flow of 17 cms, the last 2 km are easy class V. I suspect this section would be much more difficult at higher flows with some drops becoming unrunnable.

50 meter falls-tributary entering river left foto by Marcia Susaeta
Note: For scale see yellow kayak at base of falls
Unfortunately, like the neighboring Lontué, access is the most daunting obstacle. The landowner's concerns regarding wildland fire (notice the charred ridge above the north side of the river from a 1993 fire), garbage, and road maintenance have eliminated access beyond Puente El Baúl. This run is fabulous and we want to go back pronto. If you ever gain access, be responsible so other boaters can follow in your footsteps.
To reach the take-out at Puente El Baúl of the Lontue confluence elevation 597 meters refer to the lower Lontué description. Permission must be obtained prior to traveling upstream from the village of El Yacal, otherwise you likely will not be allowed to pass the through the gates. If you get past the locked gate at Puente El Baúl, climb the steep switchbacks and drive 14 km east on the plateau. Turn north at an obscure crossroads (south to the upper Lontué put-in) and continue approximately 3 km to a point where you must begin to walk. Leave the dirt road and hike down an obscure trail near Estero Agua Fría. As you get approach the river, you'll have to thrash through bramble and bamboo. Elevation 835 meters.
This class 4-5 river is best run in spring/summer with ideal flows of 500-600 CFS. It is 15 km stretch dropping 15.86 m/km average or 80 FPM
River first ran Feb 24, 1995
Put in 35,324 degrees south 70.885 degrees west 835 meters elevation
Take out 35.274 degrees south 70.01 degrees west 597 meters elevation
Note: In late March of 2013 Todd Ericson did the first of several trips from close to the source near the Argentinia border. This high put in at 1950 meters adds another 35.5 km on river and makes for a 3 day self support. Todd also has a company based out of Los Quenes that has successfully rafted the lower 15 km Colorado stretch and commonly runs trips on the Teno River. Chilean Adventures
In March 2015 Gelnn Dagilesh and Gonzalo Doerr started a few kilometers higher where the river is extremely small.
To reach the headwaters is a bit of a mission in logistics. Take the road up the Tent river and cross Paso Vergara into Argentina. 12 KM after the actual border (border is between Chilean and Argentinian custom posts) take a 4 wheel track to the right and reenter Chile (no customs). After 6 km will come to a remote spot with arrieros where horses can be rented. From here horses walk down a tributary 8 km to confluence with Colorado. About halfway down will pass a 15 plus meter waterfall. Put in at confluence with Colorado or continue 2.5 km downstream to hot springs Baños Llolli or anywhere that looks good tis tart floating.