Rio Corcovado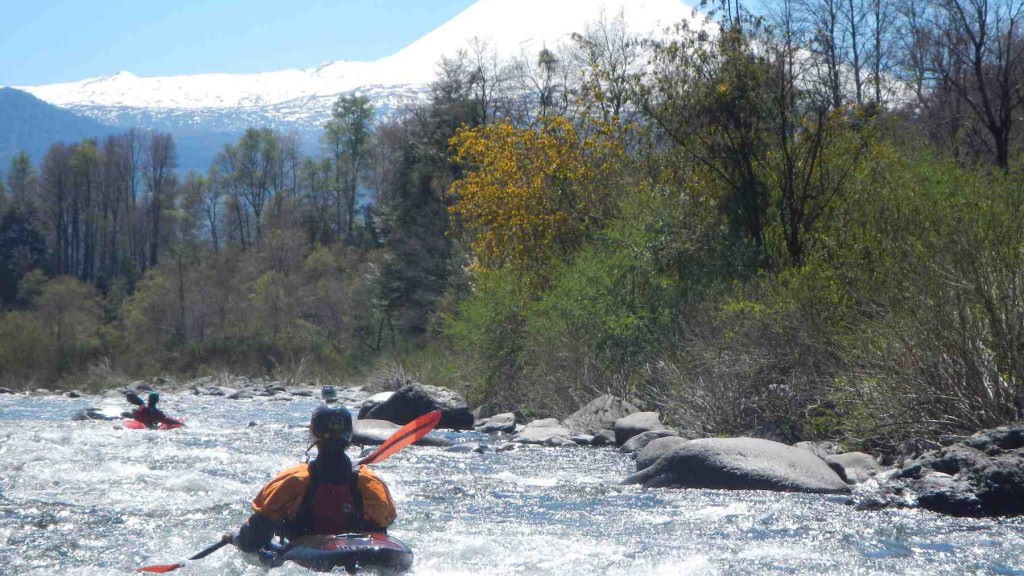 The headwaters of Chile´s Rio Palena are found in the Chubut region of Argentina where the river is called the Corcovado or the Carrenleufú .

Kayaker Eva Luna Ramirez
There are three distinct sections to the river. The upper, seldom run class 4-5 stretch requires permission to enter Estancia Tecka 7 KM below Sectional Caridad at 700 meters elevation 71°19'34.14″W, 43°41'13.22″S and has its take out on the Corcovado-Rio Pico road at Arroyo Poncho Morro 43°41'44.31″S, 71°23'49.00″W, elevation 492 meters. The 10 KM stretch involves a 90 plus km shuttle and a few portages thru a stout canyon.

10 year old Pablo Casey in front of the ducky
The lower stretch (also known as border run has its put in at the bridge of the Corcovado-Carrenleufu road at elevation 336 meters and takeout somewhere around 16 KM downstream below the town of Carrenleufú near 235 meters elevation. This stretch of river has a few class 4 rapids in beautiful canyon and its lower stretch has the added waters of the Rio Hielo.

Peruvian raft guide Alvaro Ibañez
The section, however, described here is the tradition commercially rafted section called the middle. The takeout is at the bridge 7 km from the town of Corcovado on the road between to Carrenleufú at elevation 336 meters 43°31'39.32″S, 71°33'19.07″W.
To reach put in return towards Corcovado and 1 km before reaching town turn south on gravel road 41 towards Rio Pico. Go just over 1 KM to the bridge over the river at elevation 386 meters, 43°32'36.66″S, 71°29'13.47″W

Arequipa boater ¨Chatto¨
The river is in an arid canyon with friendly class 2-3 boulder drop rapids. It is an 8 KM stretch that can be run in 2 hours. Late summer flows are around 15 CMS or 450 CFS which is more than enough for rafts. Flows are pushier with spring and early summer flows in excess of 40 CMS or 1200 CFS. EPA Expediciones of Esquel runs commercial raft trips on this section in the summer months and has base operation near the put in bridge. For more info

Eva Luna Ramirez
Nearby rivers include the Futaleufú, Palena, Frey, and Michinmahuida..Bring a fishing rod as big trout are present.