Rio Espolon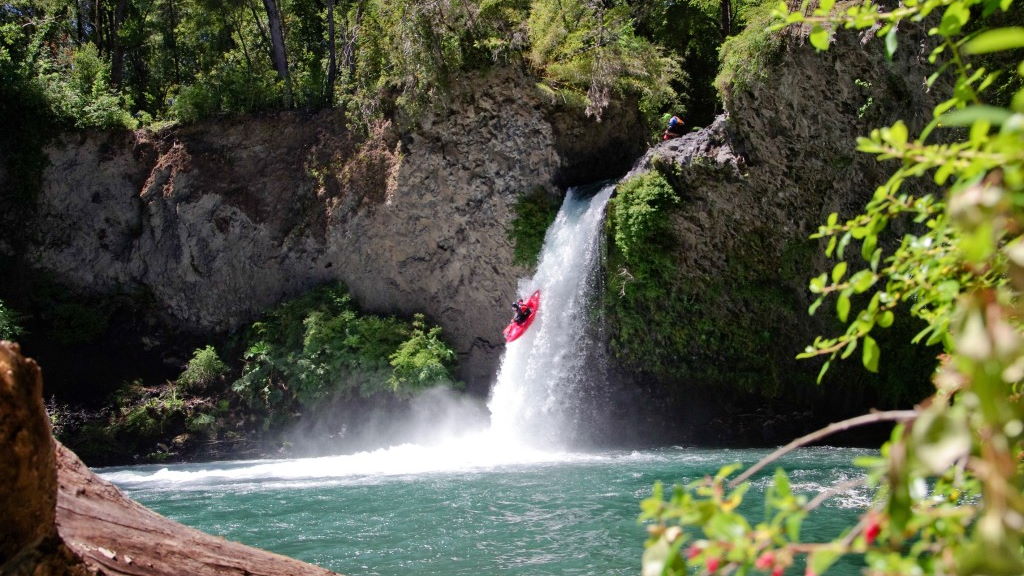 The Espolon is a mellow float with some occasional play and spectacular water quality. For 20 years the river has been a favorite training run for beginner kayakers visiting the Futaleufú area. With easy roadside access and close proximity to the town of Futaleufú the river sees a surprising number of visitors in the summer months December thru April.

Kurt (Ducky) and Pablo (kayak) just after Pablo's 7th birthday foto by Eva Luna Ramirez
There are two short sections to the river. The upper sections is 5-6 km long and can be reached in several ways. The easiest is to follow the main road out of Futaleufú towards Chaiten. you will cross over Puente Espolon. The campground on river right serves as a great takeout. To reach a put in continue on main road heading towards Chaiten. There is a turn off about 4 km downstream where you will be able to park just beside the Espolon. To get to a higher put in proceed downstream few hundred yards and turn right following signs to Lago Espolon. Put in at base of a unrunnable falls. Option three is to leave town of Futaleufú heading up the east side of the river. Put in at convenient spot.

Crystal clear water near put in foto by Eva Luna Ramirez
The lower 4 km run begins at Puente Espolon and goes into the Futaleufú. This 4 km stretch has some good play waves and better rapids than upper stretch. A takeout point is on river river right at the old bridge. To reach the take out by car from Puente Futaleufú drive towards Chaiten and after less than 2 km take first major left. there should be a sign that says "La Confluencia". follow this road until a T intersection and here go left and continue until you reach a river access point.
The lower Espolon also serves as a convenient access route to the Inferno Canyon section of the Futaleufú River. Inferno canyon section for more details
Note: The pristine waters of the Espolon are being threatened by a proposed gold mine. Local opposition which was initially dormant is taking shape. If development of the mine progresses as planned the future of both the Espolon and Futaleufú river corridors will be in doubt. For more information visit Patagonia under siege