Rio Frey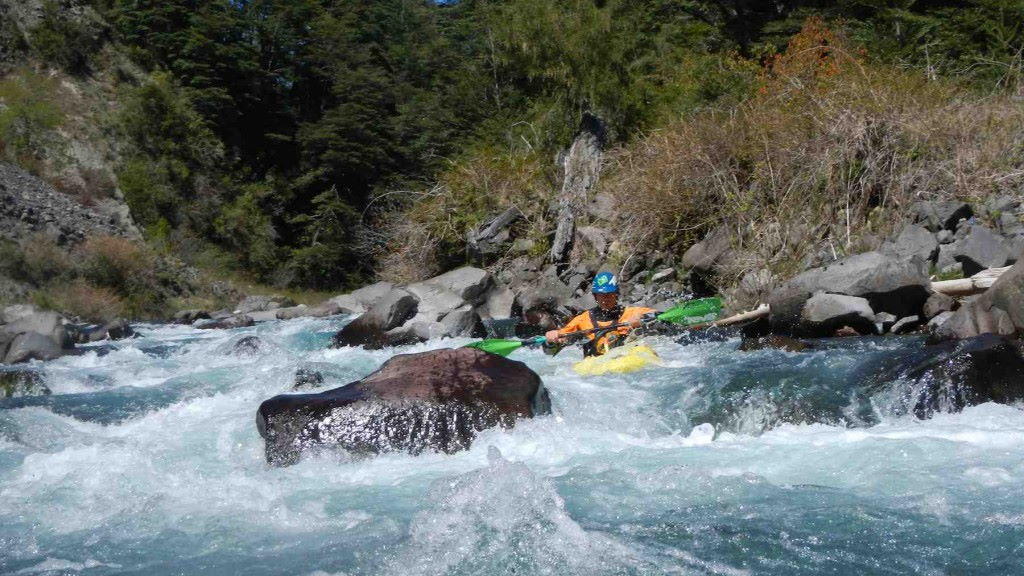 Hundreds of people visit the Futaleufu River in Chile´s XI region every year for its pristine whitewater and unforgettable scenery but few even know of the gem that lies upstream on the other side of the border.
Nice rapid on Rio Frey
The Rio Frey is the name of the big volume river in Argentina that is the birth of the Futaleufu. The river is completely within Los Alerces National Park and has no road access. The River drains Lago Krügger and is above the Futaleufu damm so is a free flowing paradise.
Motorized transportation to the put in
To get to river one starts in either the Argentinian town of Trevelin or in Esquel. Follow the paved road into the southern park entrance of Los Alerces. Non Argentinians will be required to pay an entrance fee and will likely be required to pressure wash their boats to avoid the potential spread of the parasitic algae known as Didymo.

View to the north of Lago Futalafquen
From the park gate follow the road 27 km around Lago Futalafquen to Puerto Mattos. From here there is daily service in summer months via motorized ferry to Lodge Krügger 8 KM away on Lake Krügger. The ferry, the lodge and a campground in Krügger are all operated by EPA expediciones of Esquel. www.epaexpediciones.com epa@grupoepa.com Country code 54 phone (02945) 457015 Owner (also kayaker and owner of rafting company) Dany Badiola
Departures from Puerto Mattos are at 12:10 and returns from Krügger are at 11:30 AM and 5:30 PM.
The ferry crosses Lago Futalafquen and passes through the narrow estrechos de los monstruos named for the huge trout and into Lago Krügger. The lodge sits at the other side of the lake where the Rio Frey is born.
The area resembles Chile with snowpeaks and huge, ancient Coigüe trees, kingfishers, Colihue, and Arrayanes..
Put in at the beach at mouth of lake and float into the Frey 71°43'55.15″W
42°53'29.57″S, 516 meters above sea level. The whitewater run is 4.6 KM long and finishes at Las Palganas 42°55'42.96″S, 71°42'58.73″W. From here shoulder your boat and walk back to the lodge. An alternative is to continue down the Frey another 10 km into the embalse formed by the dam. From here it is 14 km across the lake to the dam site where there is road access.
The river fluctuates in volume from high water spring runoff of 350 cubic meters per second to low late summer flows of 100 CMS. (10,000 CFS to 3500 CFS). At low flows the river is fun class 3 with one class 4 rapid. At high flows there is 4+, 5- action in the big rapid and some stout whirlpools. Daily flow rates for Rio Frey can be seen on web at http://www.chfutaleufu.com.ar/parte/parte.pdf