Rio Futaleufú (Terminator Section)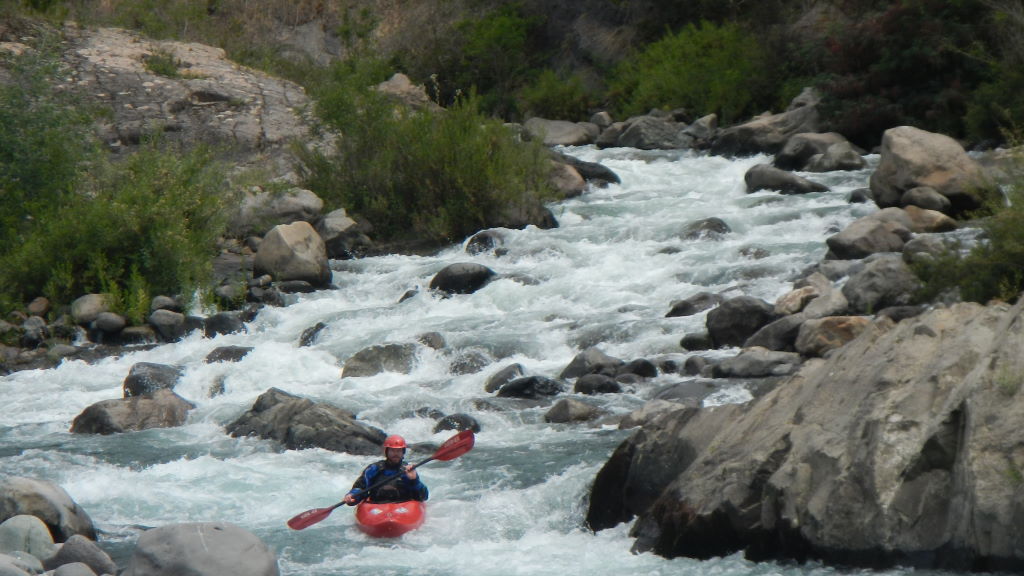 The terminator stretch combines big water playboating potential with the heart stomping option of running the gut of its biggest rapid terminator. The water is irridescent blue and generally warm and the scenery spectacular.
Due to an upstream dam in Argentina the river has year round water. Winter months are cold and the river is high but it is still boat-able. Prime boating season is late November to mid April.
Notable rapids on this stretch include "Asleep at the wheel", "Terminator", "Kyber pass" and Himalayas.
Terminator is a monstrous 1/2 km rapid that deserves a good scout. Traditional scout is on river left but easier portage is on the right. An exciting "chicken line" can be found close to shore on river left for the majority of boaters who can not conceive of running down through the massive hole-infested center of Terminator.
.

Eva and Alex in the exciting sneak of terminator foto by John Cornwell
The takeout is the swinging Paserela bridge 8 km up from Puente Futaleufu. This is also the put-in for Bridge to bridge section.
The put-in for the Terminator section is 7 km upriver at the confluence with Rio Azul. There are some private land issues near the confluence so best to put in on the Rio Azul and boat 3 km down to the Futa. to reach put in for Azul turn left 1/2 km before the bridge while driving towards town of Futa and proceed up a road paralleled by a fence made of huge vertical Coigue logs. Drive until you reach the swinging bridge over the Azul and find your way to the river..

View of the ash-covered Tres Monjas as seen from the river when Chaiten volcano blew for the second time in Feb 2009
Recent explosions of Chaiten volcano in 2009 have somewhat darkened the waters of both the Azul and the Futa but as each day passes the quantity of ash sediment in the water diminishes.
Nearby rivers include the Azul, Espolon, Tigre, and Michinmahuida