Río Fuy (Lower)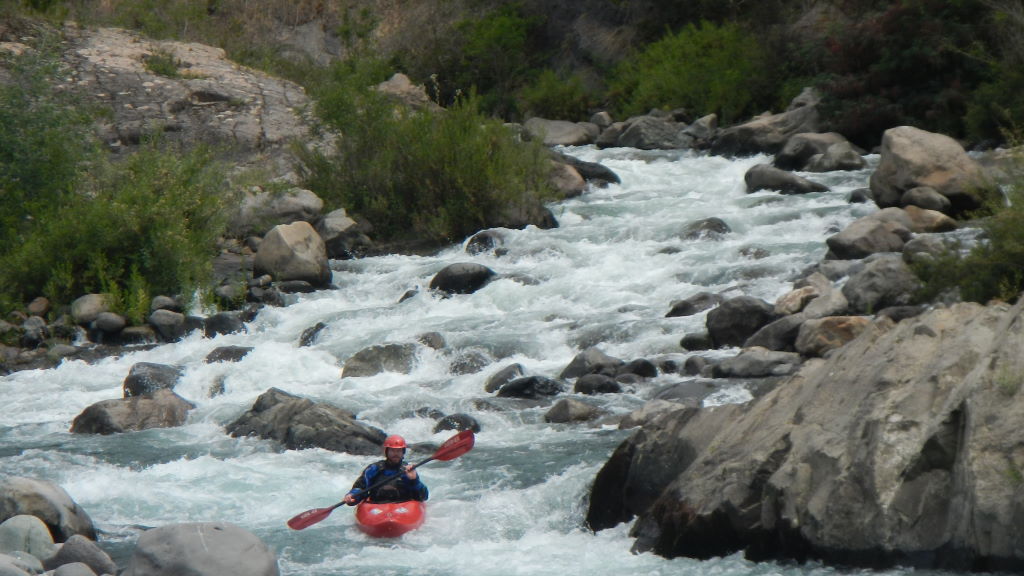 Flowing warm and transparent out of Lago Pirehueico deep in the heart of Chile's Lake District, the Fuy's astonishing clarity is a sight to behold. With a dense canopy of coihue trees overhanging its banks, the river has an exotic, even ethereal, Gondwanaland feel to it.

Michael Shields crashing thru the wavetrain below Puente Huilo-Huilo its bigger than it looks
In the spring, the river's continuous, eddy-hopping, boulder-garden rapids get big and pushy, offering quite a contrast to the waterfalls upstream. The most difficult rapid, 300 m downstream from the put-in, should be scouted. Below Puente Huilo-Huilo, the Fuy opens up for flattop views of Volcáns El Mocho (2422 m) and Choshuenco (2415 m). Kayakers love this run, although for some unknown reason, rafters rarely drop in. Since the Fuy is threatened by hydroelectric development, get to know this river before ENDESA takes it away from you.
From Lanco, 763 km south of Santiago, drive east to Panguipulli (Mapuche for "city of roses") on CH 203. Continue around the north side of Lago Panguipulli towards Choshuenco. For an alternate route from Pucón, drive east from Villarica, then south on the pavement through the lovely lakeside villas of Lican Ray and Coñaripe. Continue east to Carirringue, turn south, and drive past Lago Neltume. At the T intersection, turn west to reach Puente Huilo-Huilo. Put in here, or drive back upstream 1.2 km to a gate. Continue down the road 500 m to the trailhead, then walk ten minutes to the river below a small diversion project. Elevation 300 meters.
To reach the take-out, drive down CH 203 towards Panguipulli. Cross Puente Huilo-Huilo and unmarked Puente Punahue, turn right, and drive 400 m to Puente Llanquihue elevation 195 meters. Or continue down to Lago Panguipulli, and take out on the bucolic, black sand beach in Choshuenco.
This 4.5 km class III+•IV run is best in spring and early summer with flows of 1500-2000 CFS. There are usually no portages and average gradient is 23 mpk or 120 FPM.
Nearby rives include the Neltume, Enco, Reyehueco, Llizan, San Pedro and Llancahue
Topo map labled Neltume, Choshuenco