Rio Hielo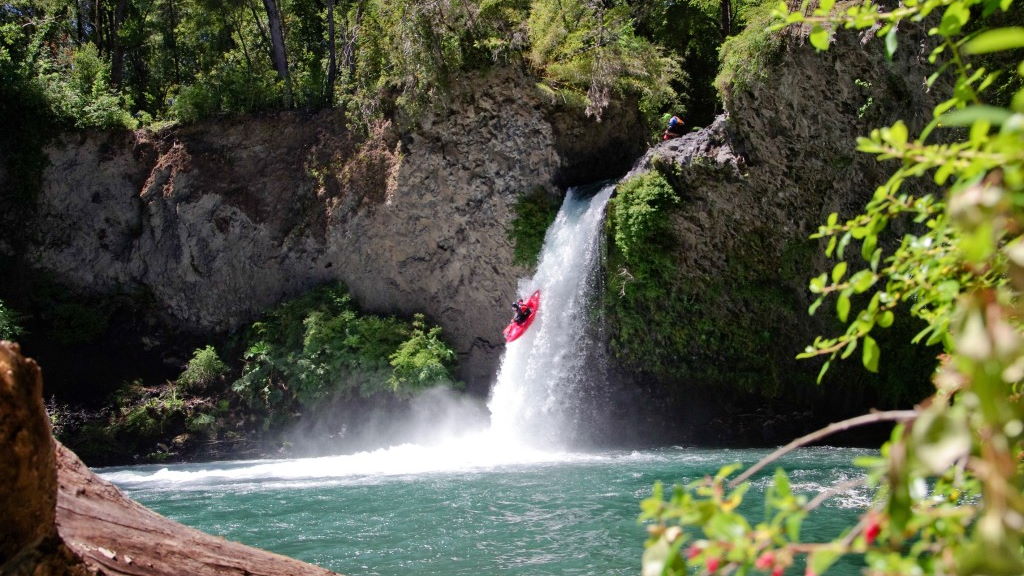 Crystal clear water in a very impressive canyon.. This class 4 stretch of water lies just over the Argentinian border in province of Chubut and is a tributary of the Corcovado (Upper Palena). Run is usually boat-able throughout the summer. After excessive rain and with high flows the river turns brown and steps up to some pushy class 5 in a walled canyon.

Nachito Roberts and first descent crew scouting the class 5
From Argentinian town of Corcovado (KM zero) go north towards Trevelin for 19.5 KM and turn left (KM markers are on the barb wire fence). At 21.4 km you reach first gate. At 24.9 km you reach second gate. At 26.6 you reach third gate then descend over the Rio Frio via the first bridge crossing. Continue to a second bridge on the Rio Greda tributary and put in. This point is 30 KM from Corcovado…

Stout drop on the Hielo
To reach the takeout return to Corcovado and turn west towards the Chilean border. Soon after exiting town you will see turn off towards Rio Pico but continue straight on road towards the border and town of Carrinleufu. Just before reaching the concrete bridge over the Corcovado river there is a turn off to the right that says Trevelin. Go right and continue 3.5 KM where an unnamed road y´s off to the left and drops 900 meters to the cable car over the Hielo river.

Entrance to the canyon on Rio Greda tributary
Note there is a shortcut from put in to take out. After leaving the put in return 11.5 km to main road. Turn right towards Corcovado and take first major right towards Centinella (about 6 km). After about 5.5 km Pass thru Centinella and continue approximately 4.5 additional km and look for the turn down to the river
Put in -43.424659 latitude°, -71.649349° longitude 485 meters above sea level
Take out -43.514565° latitude, -71.610051° longitude , 340 meters above sea level
Total drop off 145 meters in 13.5 KM or 11 m/km average (55 FPM)
Ideal flow level 500 to 2000 CFS
Other nearby rivers include Corcovado, El Tigre, Futaleufu, Palena, Azul, Espolon and Noroeste
Topo map of Chilean side that shows the lower portion of the river only and is titled Palena I-034