Rio Iculpe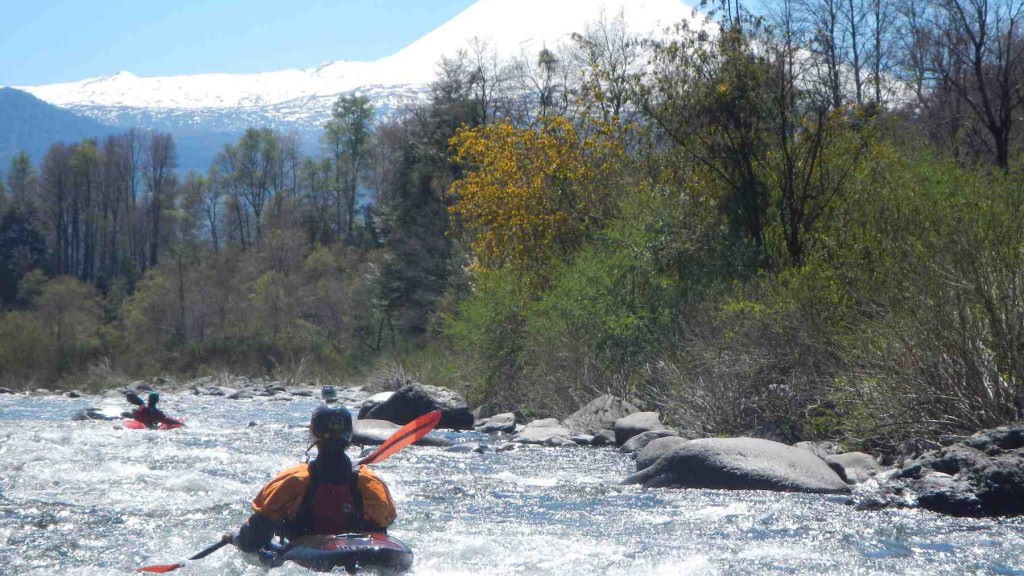 A new classic flowing off the northern flanks of the Puyehue Volcano (2240 meters) in Chile's Region de Los Rios. The river feeds into southern shore of Lago Ranco.

Fields Marshall below first drop
This small volume creek has easy access and requires little water to make it runnable. The volcanic riverbed provides for multiple small waterfalls and in between continuous, boulder garden rapids.


Typical view on the Iculpe
From ruta 5 take the La union exit towards Rio Bueno and follow highway T-85, 50 kms to town of Lago Ranco on southern shore of lake of same name. Go east 2 km and you cross Puente Iculpe. Here the flows can look low but very little water is needed for the run upstream. Continue east 1.2 KM and turn right onto a road leading to Salto Los Mañios. Continue 7.2 km from this point and you will reach the takeout. The forest is very dense along the river and a small cliff band makes access and egress difficult. Every 200 meters there are small yellow km markings hanging on trees on right side of road as you head upstream but you need to be paying attention to see them. At km 7.2 there is a break in the barb wire fence just big enough for a car to enter. Immediately turn left and you will find a trail that heads some 200 meters down to the river where a small gauge is installed at On our scratchy Jan 21, 2011 first descent the gauge read just under 60 and I estimate the flow at 150 CFS. I would guess a perfect flow would be 65 to 70 on same gauge and around 300 CFS.


Sunset over Lang Ranco with views of Molcho Volcano to North
To reach the put in continue upstream 2 km from takeout and put in below the second bridge. The first bridge is over an un-named tributary.


Fields Marshall on upper Iculpe
The 2 KM stretch described here is class 4. Adding another 2 km below this takeout will provide non stop class 5 low volume creeking. Carefully choose your takeout or you might wind up on the 200 meter or 650 foot Salto Los Mañios…….
Topo map of area is called Lago Ranco IGM 016
Other nearby Rivers include Hueinahue, Riñinahue, Curringue, Canahue, Rio Bueno, and Nilahue.