Río Llanquén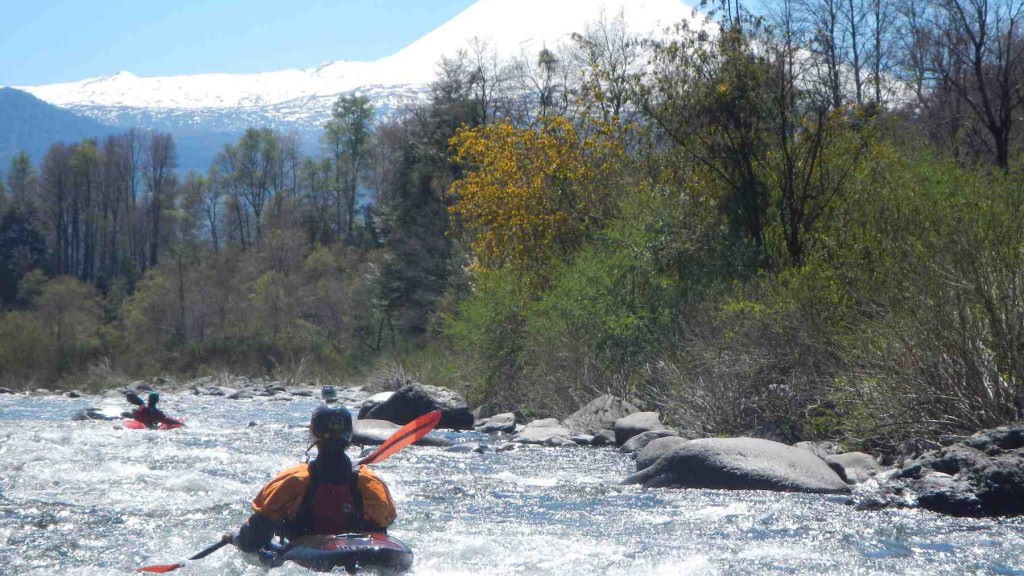 While paddling down the still free flowing stretch of the Upper Bío-Bío, the magnificent view of Volcán Callaqui (3050 m) first comes into view at the confluence with the Río Llanquén. This little drainage offers a fun, short, steep creek run. . The tight moves in the narrow streambed require precise boat placement to avoid pinning.
To paddle this creek, you can run the Bío-Bío at high water and bivouac at the confluence with the Llanquén elevation 725 meters. The lake formed by the Ralco dam normally reaches the Llanquén confluence. A new road goes up on river left making logistics easy if you have a vehicle.. Continue upstream past the first bridge. When the trail ends, ferry across the Llanquen to gain access to the river right side. Continue until you reach Puente Llanquen elevation 725 meters.
The Llanquén is accessible by vehicle from Lonquimay if you choose to drive down the Bío-Bío. Drive 28 km downstream from the normal Bío-Bío put-in at Balsadero Caracoles to the Llanquén, crossing Puente Paz en route.
This Class IV+•V- stretch of river is 3 km long with average gradient of 38 mpk or 200 FPM. Best run in the spring with flows of 250 to 400 CFS.
It can be seen on topo map titled Lolco. A private gate closes the road from the west making the other nearby runs (also tributaries of the Bio-Bio) such as the Ralco, Lomin, Queupe and Chalquilvin a full days journey by car. You may see a road to Ralco on your map but unless you have acces to the key and a good 4 wheel drive vehicle you will not thru. Access to the Llanquén is normally achieved thru Curracautin then Lonquimay or via the road over Volcan Lonquimay and down the Lolco river making this an isolated run that few kayakers have the opportunity to enjoy.
Nearby rivers include the Lolco, Upper Bio bio, Cautin, Truful, Truful