Rio Lolco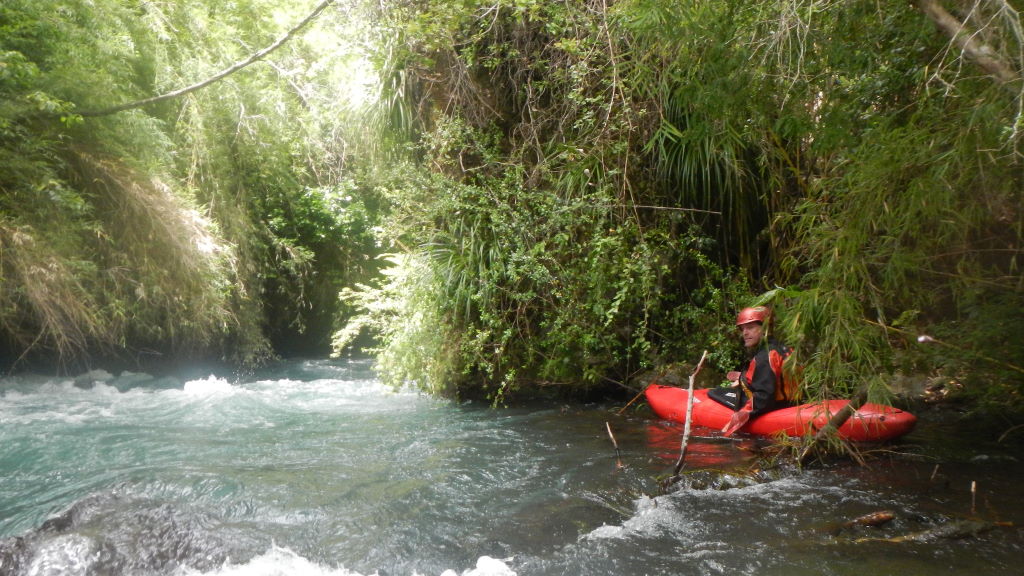 An isolated tributary of the Upper Bio Bio watershed flowing of the Northside of both Volcan Longquimay and Volcan Tolhuaca. In local Mapadungun language Lolco means Earth Water….
With a flow of around 500 CFS at takeout the Lolco provides an incredibly beautiful run through crystal clear watershed… Old growth Coigüe trees and the occasional Araucaria add to its surreal appeal. At put in the river is small but soon doubles with the combined flow of Rio de la Nalcas coming off the flanks of Volcan Tolhuaca.
The run is for the most part easy class 3 but there is one one class 4+ canyon about 4 km into the run which features one very distinct drop the is both un-scoutable and un-portagable… On our first descent run in December 2016 this rapid caught us off guard but luckily caused no major problems. Soon after the river enters a black walled canyon the whitewater picks up with the crux being a right to left boof landing in a a mini cavern… The exit is less than a meter wide and at high flows might become terminal.
Rio Lolco below Nalcas confluence
The added bonus of this run is the incredible drive to and from the river up and over the Longquimay Volcano with stunning views of lava fields and surrounding   peaks of Crater Navidad, Tolhuaca, Antuco and Copihue…From Ruta 5 take the road to Curacautin (from Lautaro if coming from South or from Victoria if coming from North) Continue up to Malalcahuello then follow signs towards Corralco Ski area…Just after the Conaf national Park entrance take the first right hand turn and here zero out the odometer… From this point it is 24.6 km until you come to Puente Lolco…..You can put in here but we chose to continue another 4 km where it was a short hike down to the river. From our put in it was 6 km to takeout at a logging bridge that goes to Villacura. A locked gate on the main road prevented us from riving down to the river but it was only a 10 minute hike with our boats back up to the road and to where we left a vehicle…
Note: an optional way in or out of the drainage is via the upper Bio Bio water shed and towns of Lonquimay and Nitro…
Put in elevation 890 meters
Take out elevation 760 meters
Trip length 6 KM
Average gradient 22 meters per kilometer or 110 FPM
Rio Lolco at put in
Other rivers in area include
Bio Bio
Llanquen
Cautin
Dillo
Truful Truful
Ralco
Blanco del Sur
Captren
Topo map is titled Lolco G-053
GPS coordinates takeout -38.15S, -71.42
Put in -38.21S, -71.455