Rio Maipo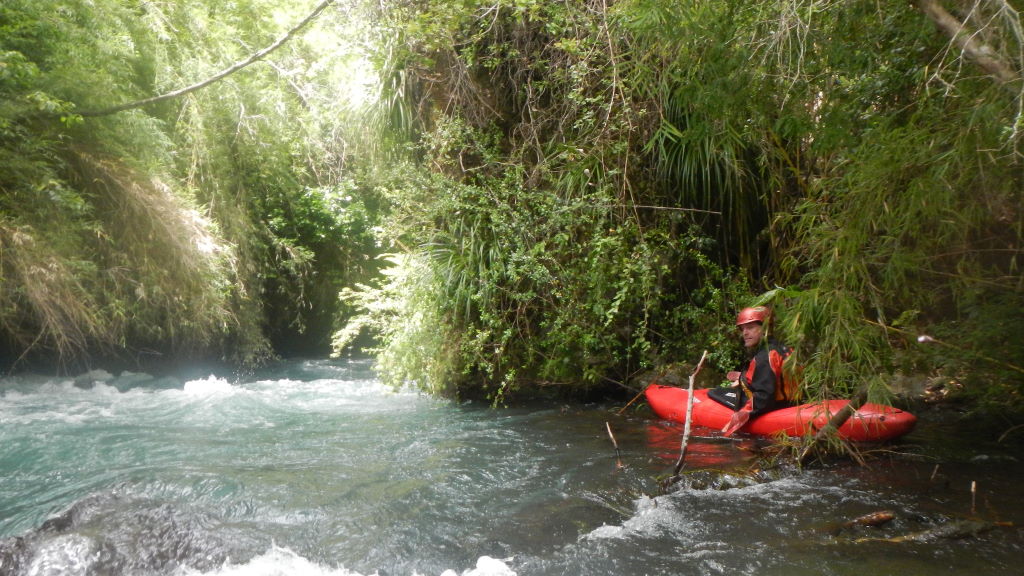 This is the training ground for Santiago's kayaking community. Most Chilean kayakers get their start on the Maipo. Only an hour from the city with year round flows, a viable rafting community, plenty of places to stay/eat, and relatively easy paved roadside access, the Maipo is a favorite among locals and a good start for foreign boaters just arriving into Chile.
The river is referred to as either the "Upper" or the "Lower"

The fury of Frenchman's corner
To reach the lower drive up the Maipo canyon. A good takeout spot is at KM39 just above Puente Toyo near town of El Melocotón. Put-in at KM47 above the town of San Alfonso. This 8 KM stretch usually takes one hour and is mostly class 3 with one mini canyon (rated class IV at high water) just below San Alfonso. Flows vary significantly from lows in autumn of 1000 CFS to 7500 CFS during full spring run-off. The lower run can be extended by taking out at Parque Los Heroes in San José de Maipo. The only dangers on the run besides big holes are some diversionary water intakes.
The "Upper" Maipo is a step up the evolutionary ladder. To reach the put-in drive upstream from San Alfonso to Puente El Yeso 2 km upstream from San Gabriel. Run the last stretch of the Yeso into Maipo. From here it is mostly class III-IV whitewater until reaching the "Frenchman's corner". It was here that an unsuspecting Frenchman blindly rounded the corner years ago to encounter some serious whitewater. At super high flows this whole stretch could be considered class V+ but even at extreme low flows would always be solid class IV.