Ri­o Michinmahuida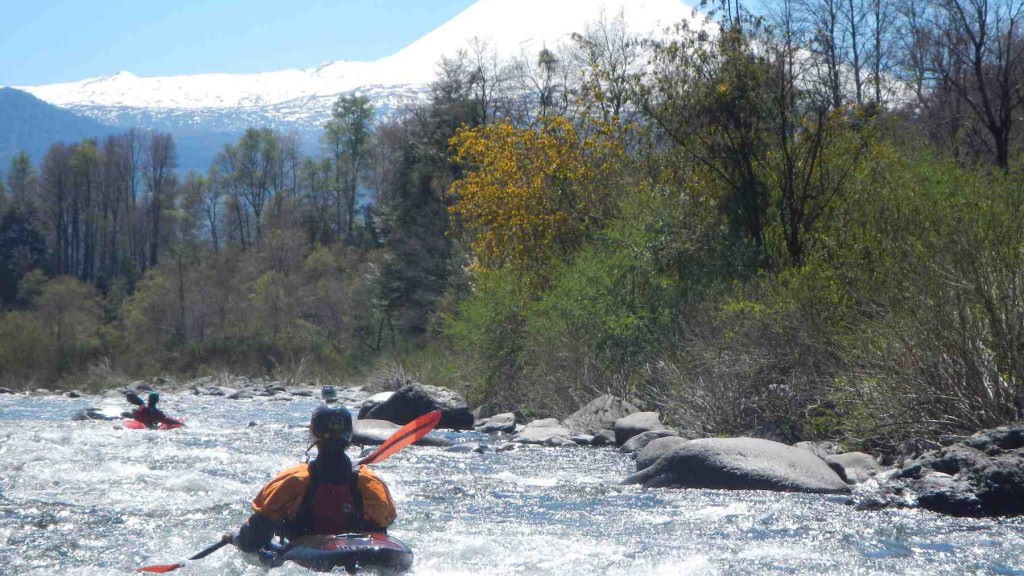 A class 4-5 kayak trip with unsurpassed scenery located in vicinity of Futaleufú. On a sunny day the put in has spectacular views of Volcan Michinmahuida whose hanging glaciers (ventisqueros) are the source of some high quality whitewater.
River soon after put in foto by Xavier
The trip can be made from Futaleufú in one very long day but two days is recommended with camping day one being at either put in or takeout.
Swiss kayaker Sevrin foto by Eva Luna Ramirez
From the Cara Del Indio campground on the Futaleufú go 45 KM down to the Carratera Austral and turn north to Chaiten. The takeout is reached when you cross the river at Puente Michinmahuida. From here it is 28 KM to put in. Go North towards Chaiten for 13 KM then turn right on a new road that goes up and past Termas Amerillo. It is 15 KM from turn off to Put in. After a severe descent on switchbacks you will see the rivr and here you enter at a place the locals call Playa Grande which is a large gravel bar with one house on other side of river.
Looking on as Sevrin gets buried in a drop foto by Eva Luna Ramirez
The trip is long with over 30 KM of paddling. There are four distinct sections of whitewater and after each the river mellows before picking up again. The last 8 KM involves lots of flatwater. Expect to spend 7-8 hours on the river.
Suggested Level We ran the river on January 5, 2008 after several days of rain and then one hot day of full sun which created a lot of snow melt and high water. Both the Espolon and Azul in Futa region were high and it has been suggested that those rivers are best barometer for level of Michinmahuida. At put in we estimated a flow of 40-50 CMS (1200 to 1500 CFS) and at takeout 70 CMS. Along the trip dozens of waterfalls cascade into the river and if a sunny day you will be afforded spectacular views of surrounding snow peaks.
The second house on river right at takeout is owned by Hernan Huenupan. Hernan ran our shuttle for us in our truck which saved us more than 2 hours. Even with the shuttle and a 8 AM departure from Futa we did not make it back to Futa until 11 PM which made for a long 15 hour day.
Note: The only fuel along the route is at Villa Santa Lucia (junction with Carratera Austral) or by backtracking to Chaiten. The total distance from Cara Del Indio to Put-in and back was 226 KM so plan your fuel consumption carefully as there is no gas/diesel sold in Futa and no longer is it sold at Paserela bridge near Futa.
The river was first run in March of 1997 by John Foss and Beth Rypins. At the time no road existed so they hiked in using horses.