Rio Negro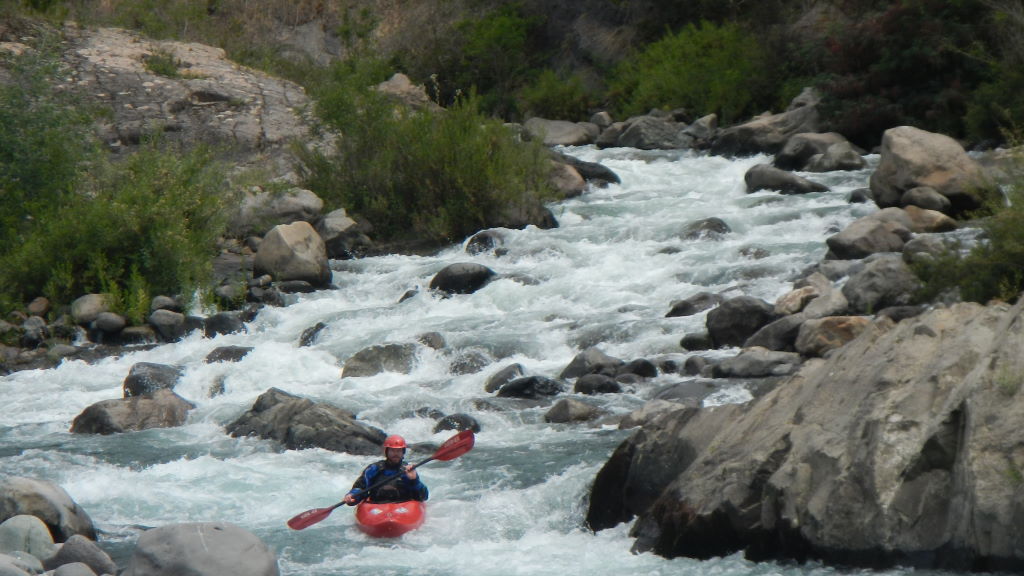 For years I had heard rumors of a waterfall infested river in the South of Chile named the Río Negro. This year I ran into a Swiss boater named Toro who not only had heard of the river but in fact had run it 3 years earlier with a group of European kayakers. Toro spoke of high quality rapids, crystal clear water, a basalt channel, big salmon and great camping.
The DEMSHITZ boys were in Pucon and looking for mini road trip. We filled up two vehicles and headed south to find the Negro and also to run the nearby Cochamó.

Cool Dave airing it out on Rio Negro
The easiest way to get to the Negro is from Puerto Montt by taking a mostly paved road 45 KM to La Arena. Here a 30 minute ferry on Naviera Puelche takes you to the other side of the Seno de Reloncavi to the Caleta Puelche. the ferry cost us 9700 pesos per vehicle and the ferry seems to run every half hour since there are always two boats operating. From here it is 48 km on unpaved Carretera Austral to small fishing town of Hornopirén. The headwaters of the Río Negro are a series of spectacular snow covered Volcanoes including Yate (2111 meters) and Hornopiren (1572 m) all of which are flowing out of Parque Pumalin.

Fred Norquist on Rio Negro
From the town plaza go south on Carretera Austral for 5.9 KM. Here the main road road turns to the right but you need to continue straight for another 400 meters to wooden takeout bridge at Chaquehua. On the other side of the bridge is an excellent campground with hot showers and Quinchos (shelters with tables and electricity). We stayed at this campground and were able to take out here just upstream of previously mentioned bridge.


Graham and Dave scouting on Rio Negro
To reach the put in drive upstream 3.3 KM to where the road plateaus out. There is a small wooden sign here that indicates the distance from the Carretera Austral turnoff as 3740 meters.
The river is low volume with a basalt riverbed that provides for many 2-7 meter drops all of which are runnable. After the first 3 drops on river one comes to a particular 20 meter drop we left un-run and to my knowledge it has yet to be run. Above this 20 meter drop is a class 4+ approach rapid that is immediately preceeded by a 6 meter falls. There is a better viewing/portage trail on river right but we scouted and portaged on our first run on river left which also works.
Below the big falls there are dozens more rapids including a long complex canyon we called "the love canal" and a 7 meter falls that requires a bit of a boof to avoid hitting a somewhat shallow landing zone.
Although only 3.3 KM long the first run down the river took 5 hours with lots of scouting and filming. the second run down the river took less than 2 hours as little scouting is required once you know the run.
We all agreed the river is one of the best in Chile. It is like a combination of the Palguin, Desague and LLancahue all rolled into one. We were told by the owners of the campground that the river reaches a certain low volume and never gets any lower. We boated the river on December 8 and 9 after weeks of drought and the level was perfect with around 300-400 CFS. In appears therefore that the river can be run from late spring spring right through end of fall. The rains return in March and per the locals the river rises quickly after rain.
The Negro takeout is only 3.7 KM from takeout of the much larger Río Blanco and is two hours south of Río Cochamó. While in the area all three rivers can be run especially if one is driving south to Futaleufú.
Be sure to bring a fishing rod. We saw some monsterous salmon that looked like sharks making their way up some shallow falls.