Río Pangal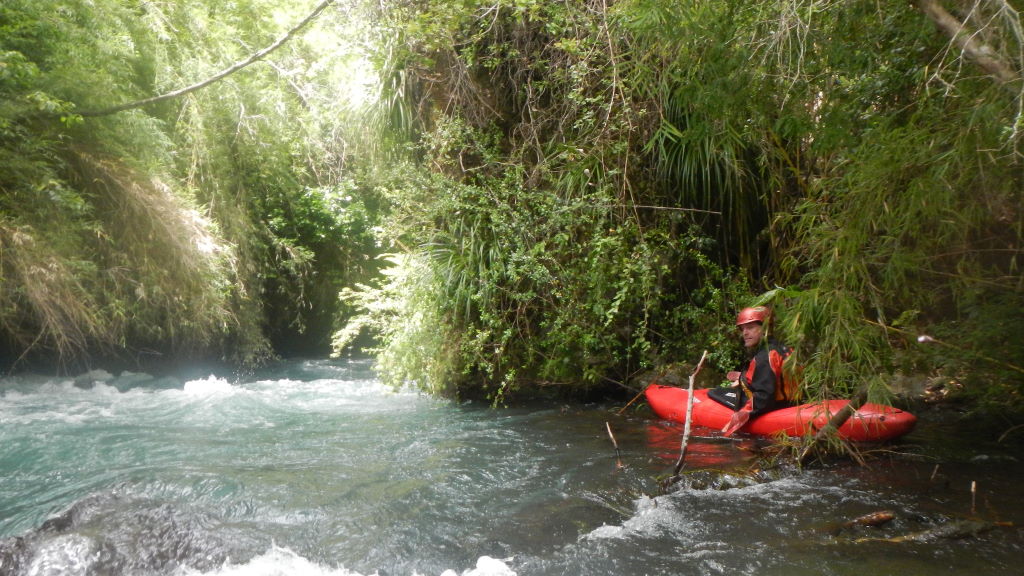 Without a doubt, the hydro-developed Río Pangal is one of the most radical whitewater stretches in Chile. The river is only runnable when the right amount of cold, silty water is released from the dam and allowed to churn through its rocky channel. The crux of this formidable run occurs at Cuesta Caracoles where the bottom drops out. At most water levels, you will have to portage the entire mess on a crumbly talus slope that can only be glimpsed from the switchback road. To the best of my knowledge this section buried in this slot has not yet been run as it has a radical gradient approaching 120 mpk or 600 FPM. Below here gradient tapers to more manageable 200 FPM and was first pioneered in 1980.
The dam is owned and operated by CODELCO, the largest copper corporation in the world. For release information contact: Central Pangal engineer, Tel: (072)-297890; or Coya manager, Tel: (072)-297881.
If you find yourself in the upper reaches of this watershed (above the dam and resevoir), check out the Río Blanco, a tributary of the Pangal. Its class VI cataracts lie close to great camping in the heart of the cordillera.
From Rancagua, 87 km south of Santiago, drive east on the paved Carretera el Cobre 22 km to Coya. Continue upstream 12 km to Central Pangal, the take-out. At elevation 945 meters. Drive another 12 km up the switchbacks of Cuesta Caracoles to the put-in at Embalse Bocatoma de Pangal elevation 1405 meters. Do not venture below the Central Pangal takeout as construction debris, diversion tubes and a partially-submerged bridge that collapsed during a flood in May 1993 create deadly hazards.
Not high on the list of beautiful free flowing streambeds this 12 km class V+•VI is more of an attraction to adrenaline junkies looking to complete one of chile's yet un-run stretches of whitewater. Runnable only when the dam releases proper flow. For the stretch below the switchbacks 1200-1500 CFS would be optimal. To attempt the radical stretch low flows would be needed which would make the lower stretch a scrapefest.
Topo map Río Cortaderal