Río Petrohué (Lower)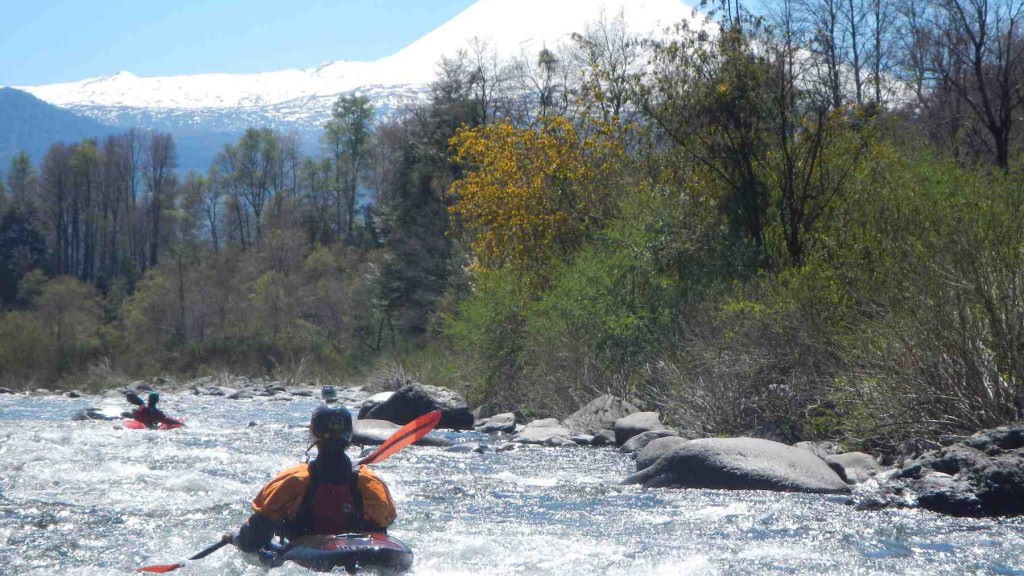 The lower Petrohué is a popular commercial raft trip and a good run for intermediate kayakers. Its wide-open rapids require a minimum of maneuvering to negotiate safely. Surfing the warm, azure waves entail backing down and stroking hard because there are few convenient eddies. Calm interludes allow ample time to gaze at the lofty heights of Volcán Osorno (2652 m) looming over the river to the north.
Refer to the upper Petrohué description for directions to Parque Nacional Vicente Perez Rosales. Starting at the base of the Saltos del Río Petrohué involves running a turbulent class IV rapid immediately upon entry into the river. For an easier alternative, drive down the road a couple of kilometers to the campground at Los Patos elevation 85 meters. Put in on an irrigated boulder pile, bumping and grinding 200 m down to the confluence with the Petrohué.
To find the take-out, drive 13.5 km from the Los Patos campground towards Ralún. Park your vehicle at Puente Huenu-Huenu, a bridge spanning a tiny creek flowing into the Petrohué. Scout this small tributary well; it is easy to miss. You'll have to hike up this streambed to avoid kilometers of flatwater and a commercial take-out fee downstream. Elevation here is 25 meters above sea level.
This 12 km class III stretch is boatable year round with flows ranging from 1500 CFS upwards. Average gradient is 5 mpk or 26 FPM with no portages.
Topo map titled Puerto Montt