Rio Pilmaiquen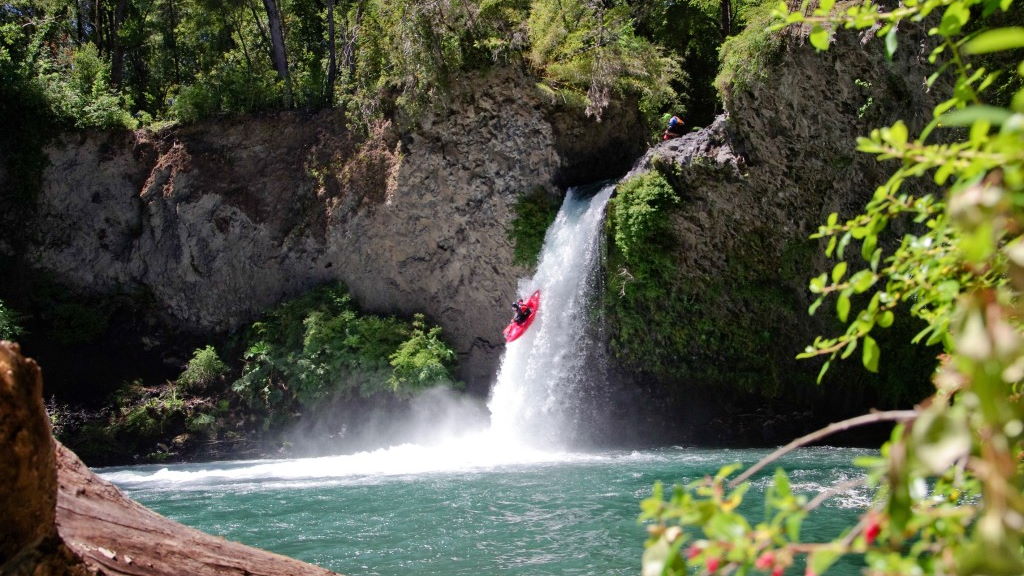 Big volume, warm water playboating in Southern Chile. Draining Lago Puyehuehue, the river forms the boundary between the 14th Region de los Rios and the 9th Region de los Lagos. Easy logistics and a nearby town make for a fun day of boating.

Hike in to Pilmaiquen
From Ruta 5 take the Osorno exit and go east on paved road 47 km to town of Entre Lagos. From Entre Lagos the put in is reached by returning 5.3 KM and turning right in Pilmaiquen and proceeding 2 km´s to La Central. Cross over the dam wall and there is a place to park on right side just before coming to the gate to enter power plant. Walk into the magical, old growth forest on the left and walk about 200 meters and take second fork in trail to the left. It leads to some steps and another trail that leads down to old river corridor. Put in as soon as you have water and paddle out below the dam discharge and the main flow. From here it is almost one continuous class 3 wave train rapid to the takeout at Puente Rucatayo 7 km downstream. The GPS coordinates of this point are 40°38'17.88″S and 72°38'59.57″W.

Beginning of river
To get to the takeout return back to the paved road and turn right towards Osorno. Go 6.1 KM then turn right towards Rucatayo. The road forks and stay to left and you reach takeout bridge in 2 km. Cross bridge and enter a field. The obvious trail leads to a religious shrine so walk upstream about 150 meters to find the trail the reaches the river. Takeout GPS coordinates of this point are 40°36'56.81″S and 72°42'48.69″W
On our Jan 22, 2011 trip we had an estimated flow of 3000 CFS.. It was big and fun but there is no limit to how high you can run the river. Probably the bigger the better.

Giant Arrayan tree on hike-in
On a sad note the river could shortly be gone. Just above the takeout we came to a dam site buzzing with activity. Damm walls are already being built but a local told us the project will be halted for 1 year. This is a cool river so get it before it is gone.
Nearby town of Entre Lagos is a nice place. There is a great restaurant called K on Pedro de Valdivia 307.
Other nearby rivers include the Gol Gol, Iculpe and Rio Bueno
Topo map of region is titled Entre Lagos IGM 025