Rio Plata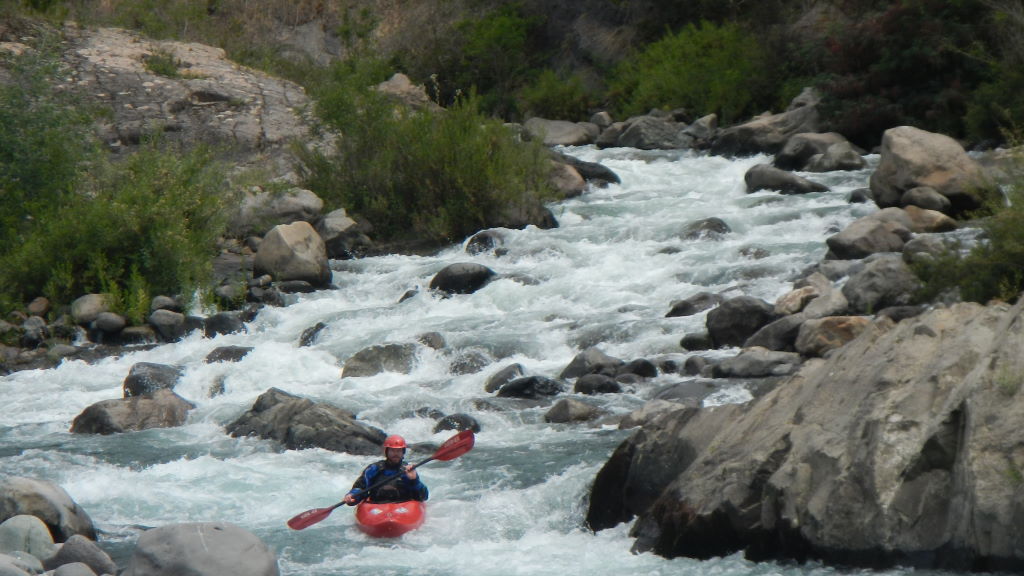 This seldom run, low volume steep creek enters Lago Villarica directly opposite Pucon. It only runs in the spring or after an intense prolonged summer storm. On some maps such as 1:50,000 Topo titled Lago Caburgua it is also called Rio Quilque.

Nate Elliot in Plata Canyon
The run was first pioneered by locals Robbie Dastin and Gigo Castillo along with visiting Colorado boys Chris Larsen and Steve "Este" Melnick in December 2003. The following year I hit the second run with a big group including Nate Elliot, Russell Kelley, Daniel DeLaVernge, Riley?, Jay Moffet, and two others names unknown.
The creek is a tight, deep canyon with multiple big drops with the highest being in the 10 meter range. To determine if the creek has proper flow leave Pcuon and follow directions to the takeout of the lower Trancura. Cross the Pasarela Quelhue (swinging bridge) to the other side of the river and go to road deadends. Turn left and follow road for several kilometers until you dead end into the creek. Walk partway upstream and look just upstream of the foot bridge. If you think you can barely scrape down the lever should be good. If it looks like you can float down without problem the creek is too high and you should not enter the constricted canyon above.
Finding the put in is an incredible challenge and will take several hours of hiking with your boat. To reach the put in first cross the river (in your boat or on the foot bridge as there is no vehiclke bridge at time of this writing) and walk about 200 meters until you come to a gate on the road. the gat emay be closed and you will need to jump over. Continue walking uphill on the gravel road for a few hundred more meters until the raod begins to level off. there will be barb wired fence on your right and at some point a place where you can open the fence to let animals or mabe even a vehicle in. Enter here and start walking diagonally to the right. You will come to an old road that then turns and steeply climbs. Stay on the this for about 40 minutes until you climb a steep series of switchbacks with a farmhouse on your left. When you reach the top pass to the right of the house ona rightward diagaonal and stay on the road track as you cross some more gates. The road levels off then climbs again to more pastures. The road at this point is hard to distinguish but keep climbing and the road will eventually come into view again as more of a dirt tract in the grass. While you are hiking the creek is hundreds of feet below you in a jungle filled canyon. you will see absolutely nothing looking down so do not even try to climb out on the cliffs as it is a waste of time. Eventually you will come to final gate that is a formed by series of wooden timbers placed horizontally. Go thru this gate and stay on what appears to be an ancient logging trail. you will cross a rushing small stream and you need to stay on this tract for approximately 1/2 to 1 KM. this is the hardest part of the hike. You need to find a way down to the river and it is not easy. On our trip we split up and spread out about 100 meters apart and each made an attempt. If you ar elicky you will find the trail down. If you are not you will chase some cow path only to find yourself cliffed out.
When you do get to the river the water is crystal clear, cold and drinkable without a filter. The first 1/2 KM may be scrappy but then the 5+ action picks up with 2.5 KM that includes numerous falls and big drops.
The lake is at 240 meters above sea level. The put in is at 500 meters. In the 3 KM run the creek drops 260 meters for average drop of 88 meters per KM or 440 FPM average. I would estimate the flow at 100 to 150 CFS.
Plan on a whole day to run this and remember once you enter the canyon the only way out is to boat your way to the end. An accident or broken boat could prove most problematic.
Robbie Dastin 10 meter drop
Gigo Castillo wall boof
Final drop on La Plata
Robbie Dastin early action on La Plata
Put in for the Rio Plata Dec 2004