Rio Quepe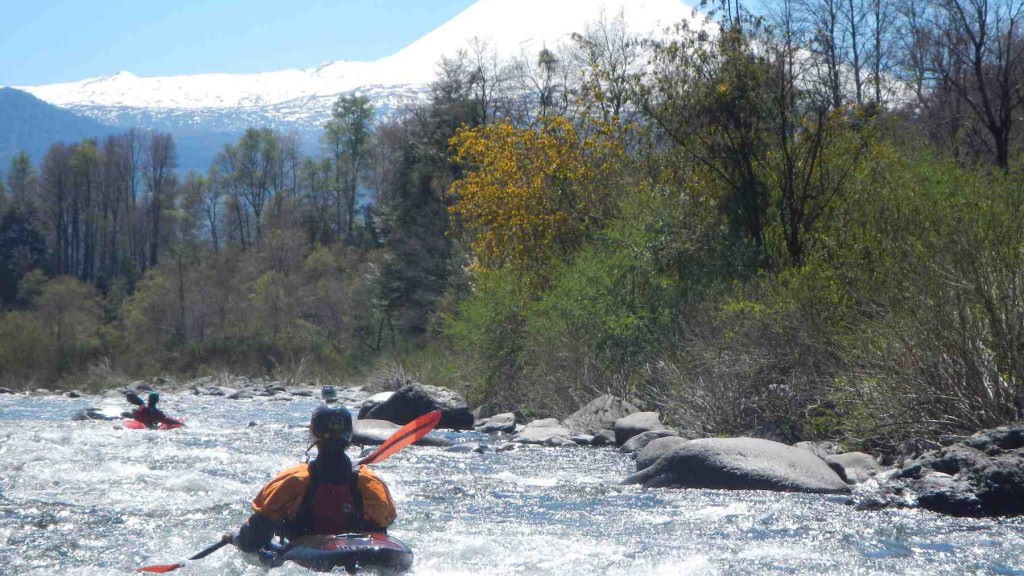 How to describe the the Rio Quepe is a paradox. One description is terrifying class 3 but because of the committing nature and one 5+ canyon I would say it is better described as class four difficulty with long portage. The source of the river is a high lake on the western flank of Volcan Llaima (3125 meters). The run is more interesting than it is enjoyable. The people and geography make it an interesting option if in the area. The whole is in a recessed basalt mini canyon that itself lies innocuously within rolling fields with cows. In general the rapids are not big but the lack of eddies and steep slippery walls combined with significant log jams make the run a bit more nerve wracking than it is enjoyable. I did the first exploratory run in early December of 2005 with the Canadian brothers Ian and David Collings.

Class 5+ section of Quepe-note mini cave upstream you need to navigate

Deceivingly calm waters of the Quepe
To reach the takeout drive east from Temuco on paved road S-31 to Vilcun and then onwards to Cherquenco. On the east side of Cherquenco you first see the river from a high suspension bridge. A takeout here is impossible but head south thru the town plaza and you will find a road that drops down the river with a good takeout just below the cementery. I did not go downstream but it looked like lots of fun below this point without the gnarl found above.

Scoting in the Colihue infested canyon
To reach the put in cross the bridge over the river near Cherquenco and head due east. In several miles you will come to a sharp left turn. This road descends down and crosses the river. We put in just upstream of the bridge and ran the first drop. Due to lattice design of bridge we had to get out of our boats and climb thru the bridge. The irridescent waters meander thru basalt mini canyons as the current gradually gets faster. Soon the river takes on a feel of the Palguin with lots of 1 meter drops. The danger is that many have trees in them and there are almost no eddies. If you do find a good eddy it is hard or impossible to get out of your boat and climb the steep/slippery walls. We found it best for one person to run along the rim for a few hundred meters and shout instructions to those on the river then return to their boat and catch up.
At one point the river drops into some 5+ insanity. We had a wipe out here that resulted in a pinned boat and an early departure.
The best time to run the river is in December. Overall I would not rate this river highly but if you are in the area it is a challenge.