Rio Quillaleo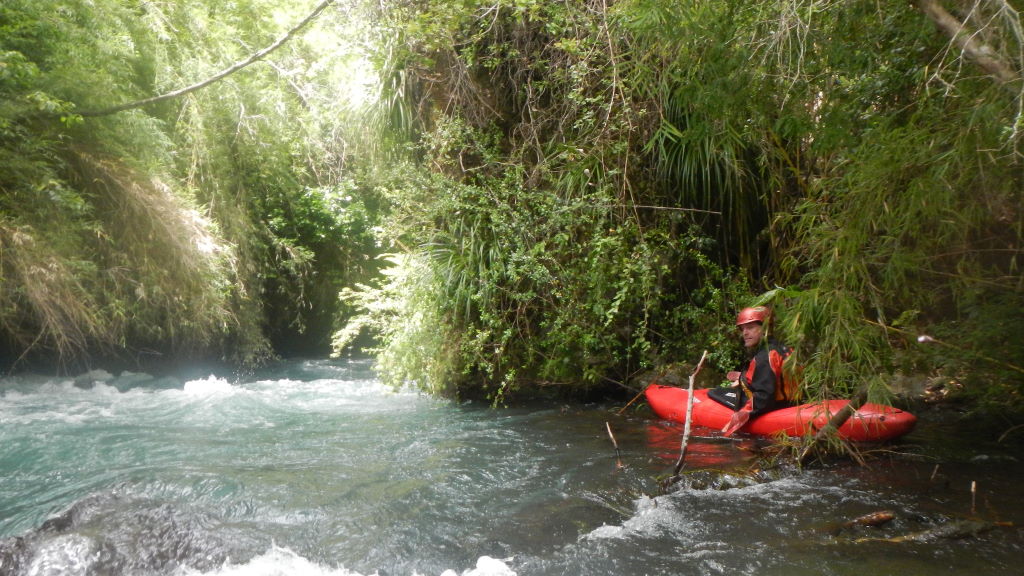 One of many overlooked tributaries of the Bio Bio in Chile´s 8th Region. The Quillaleo (pronounce Ki-yah-leh-yo) is an upper tributary of the Huequecura, which enters the Bio bio downstream of the Queuco confluence.

Rio Quillaleo
The Quillaleo has its headwaters in the Cordillera Tricauco with the most outstanding peak being the snowcapped behemoth Cerro Macizo 2224 meters above sea level.
For 20 years I had driven over the Huequecura on the way up the Bio Bio and always wondered what was upstream. Low water levels is what kept me from exploring but this year with a high snow pack and early season run off the river valley beckoned for some exploration. Rodrigo Tuschner had just returned from a season in Italy and joined me for some exploration. The lower elevation snowpack makes this river runnable in only the winter months of July to early spring. Most likely the river is not runnable after end of October, unless after a period of very sustained rainfall..

Rodrigo Tuschner at put-in
The logistics are easy. From the Los Angeles exit on Ruta 5 follow the paved road to Santa Barbara. From Santa Barbara continue west 15 KM towards Ralco. Turn left at the sign for El Huachi and follow the gravel road 15 km into El Huachi then another 4 km to the river and Puente Las Balsas. One km upstream is a low head dam with a class 4-5 rapid below it. Take out here or at another bridge 450 meters upstream. The elevation is 431 meters above sea level and GPS coordinates 37.652 south latitude and 71.713 degrees longitude. Beside the bridge is a house owned by Don Segundo Viviano Araya who provided us with local information and let us leave our bicycle for shuttle.

Takeout rapid below the damm
To reach the put-in continue driving upstream 3.7 KM and you will come to a metal gate Ruca Trayen. If the river gate is locked you have to park and continue walking upstream. From this point onwards you are in land belonging to the indigenous Mapuche community of Ayan Mapu so, although not populated, be respectful. On our descent we walked another 3 km upstream from the locked gate and put-in 500 meters above an abandoned campground at elevation 578 meters.

Collecting eggs with Don Segundo
I would estimate the flow at the put –in on our October 5, 2011 descent of 250 CFS which reached 400 CFS by takeout. The class 3 run drops 138 meters in 6.7 km for average gradient of 20 m/km or 100 FPM. There are no portages and the river is raft able if the level is strong.
Note: It is possible to continue walking or driving upstream another 7 km to the Estero Monton de Trigo at elevation 875 meters. The river tightens up in this section and drops an average of 45 m/km so should have class 4 and maybe some class 5 rapids at average of 225 FPM.
It is also possible to continue downstream from takeout another 14.6 km down the Huequecura to the Bio bio confluence at 283 meters. The confluence, however, is just upstream of the newest dam being built on the Bio Bio so as the dam is completed and starts to fill the lower reaches of the river (probably 5 km or more) will become a lake. We heard there are some small waterfalls on Upper Huequecura tributary but we did not have time to explore.
It is nice to have a 1:50,000-topo map of the region, which is G-031, titled Cordillera Tricauco.
Other nearby rivers include the Duequeco, Queuco, Ñirementum, Pangue and Laja.