Rio Reca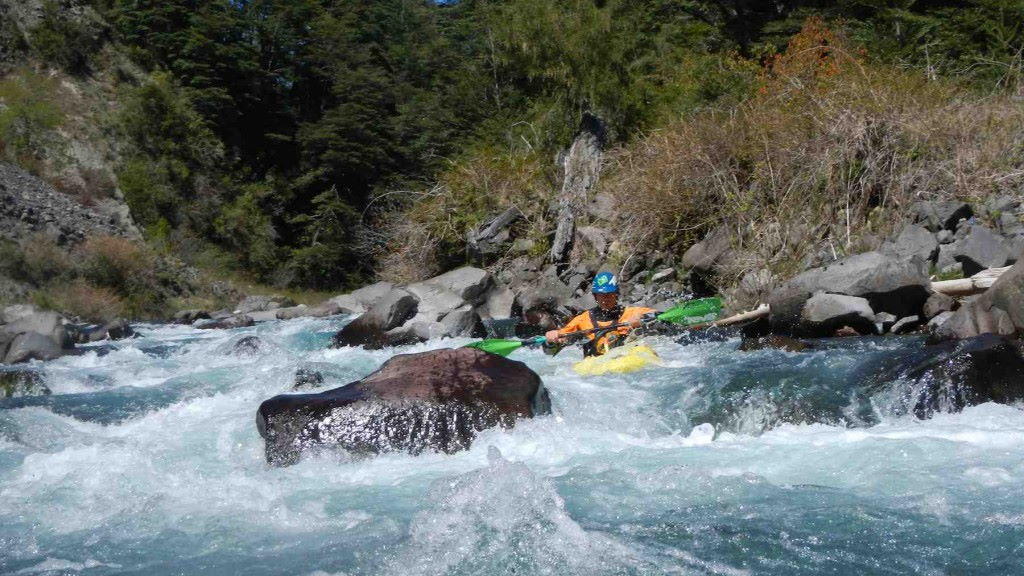 A class 3-4 winter creek run in Chile's 14th Region de Los Rios..During the winter months when everything else is too high there is a good chance the Rio Reca will be running. The river flows into the North east side of Pangapuilli lake.
After getting turned away from another river due to high water we looked at the Rio Reca and found a perfect level for our June 2012 first descent.

Low head dam above the Reca Falls
Directions: From Pucon follow the directions for the Fuy. Puente Toledo is the takeout and is 11 km before reaching the bridge over Lower Fuy. To reach put in cross bridge and turn left. Follow road for 4 km until reaching the generating facility of a mini hydro project. Here the water reenters the river via tubes. We went up and looked at the 1 km section just above the hydro discharge. This section drops almost 100 meters in 1 km and has 5+ whitewater leading into what appears to be 30 plus meter falls…Is it runnable? Not sure as it was very hard to see from above or from below.. The picture below is part of the lead in rapid to the falls which did have some trees right above the lip.

Class 5+ above the falls
We estimated flow at put in of 400 CFS…run was mostly class 2-3 with two distinct class 4 sections one of which had a double portage around trees.

Eva on the Reca

Ben paddling up the hydro discharge canal
Put in at 200 meters elevation and takeout at Puente Toledo 130 meters elevation (just before river enters Lago Panguipulli). Total drop 70 meters in 4 KM or average 17.5 m/km or 87 FPM
Other nearby rivers include Fuy, Puñir, San Pedro, Rio Blanco del Enco, Enco, Llancahue, Reyehueco
Useful top maps: Choshuenco G-122 and Pullingue G-112
Takeout 39.777889°, 72.117741°
Put in 39.755840°, 72.074694°