Rio Salto Del Tigre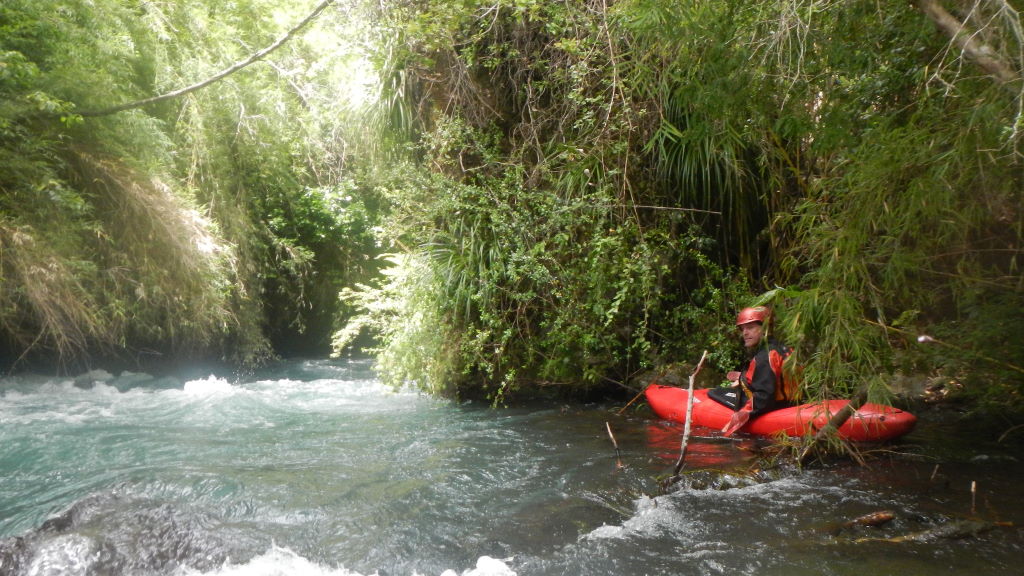 On our first descent in February 1998, Joe Larrow, John Hart, Aaron Pruzan, Robby Dastin, and I encountered an irritatingly low flow at the put-in. If there had been a road nearby, I would have bailed out. Nevertheless, we persevered only to encounter bumping and grinding class III boulder gardens in the headwaters and grueling rappel portages around condo-sized boulders and cataracts in El Salto canyon (13 in total). Below the confluence of the Río Azul, where the volume doubled and the name changes to the El Tigre, the severity of the gradient eased making the river more boatable. Tattered, cut, and bruised, it was a Pyrrhic victory for us. We got what we deserved after hearing rumors of Spe's bailout, then failing to check out the insane gradient prior to our descent. (in one section it reaches 788 FPM!!!!)
The optimal window to run this river is very small, indeed. A half-a-meter more water would have made our trip an awesome endeavor. Much more than that and we would have been forced to hike out. I will never "paddle" the upper canyon again, but I would jump at the chance to hike up to or beyond the Río Azul for the second half of this trip, where the gradient eases up. The Azul looks great on the map with its headwaters draining Parque Nacional Palena. At the right flow (~15-17 cms), this 8 km-long El Tigre section is easily runnable in a day. A trail on river right allows you to preview the run from the take-out. Camping is marginal in El Salto canyon, and not much better on the El Tigre, where Cerro Pico Morro (2006 m) peeks over the western horizon.
From Villa Santa Lucia, 77 km south of Chaitén, drive east on the road to Futaleufú. At the crossroads east of Lago Yelcho, follow the signs east 42 km to Palena. Climb the hill behind the Plaza de Armas in Palena, and drive west. After passing Puente Don Daniel, continue another 2.5 km, turn left, and drive upstream to the end of the road. Elevation 225 meters. To reach the put-in, drive east from Palena towards the border. Turn south at the sign to Valle California and continue approximately 11 km, eventually entering Fundo El Quemado. Ask a local where the turnoff is to Pasarela Río El Salto elevation 650 meters.
Best run in early summer or later after a hard rain. If you repeat the whole journey it is 19 km, class V+ in upper canyon and more reasonable IV+ from confluence with azul.
Topo map titled Palena