Rio San Pedro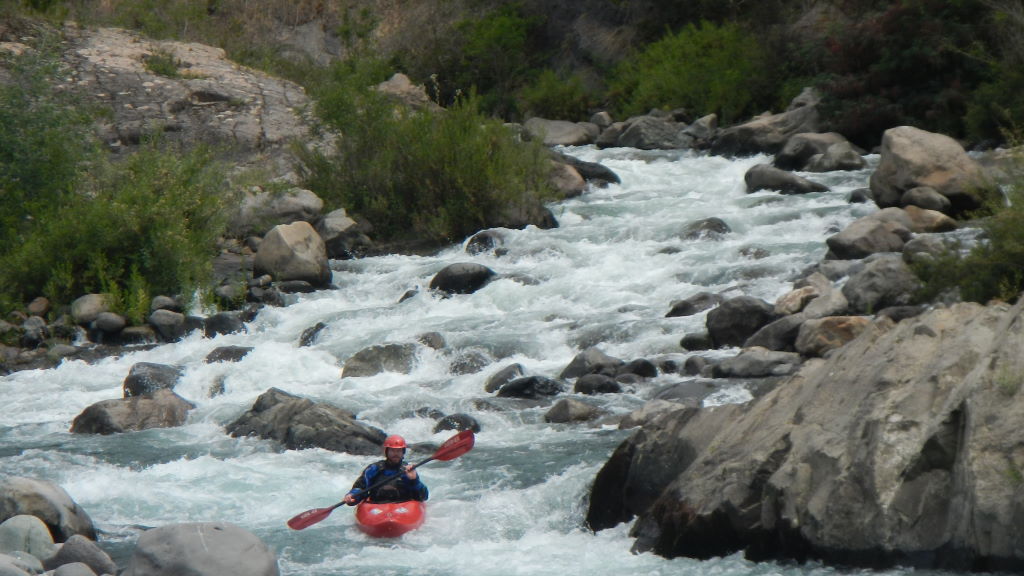 The Rio San Pedro (SP) is one of Chile's premier play kayak/rafting runs through and which descends through a spectacular, yet threatened, river corridor. Draining a series of five major lakes the SP has guaranteed year round flows and relatively warm water. The fifth and final lake in the chain is called Riñihue and it is at this lakes mouth that the SP is born. Its transparent blue waters sport not only fun whitewater but some of country's finest trout and salmon fishing.

Put in on Lago Riñihue with Volcan choshuenco in background
To reach the put-in from Pucon it is a 2 hour drive. There are various routes but the easiest is to go west to Villarica then south to Lican Ray then southeast to Panguipuilli. From here follow the paved road towards Los Lagos for 13 KM then take gravel road another 7KM to the exit of the lake (desague)
You can carry your boat down to lake and paddle to the exit or you can park at Hotel Riñimapu where your car will be safe and you can walk down a grass path to river. Expect to pay the hotel 2500 pesos for each person going on river which usually includes a beverage of your choice. The hotel staff will often shuttle your vehicle for which there is no fixed price so if this option is what you need be courteous and negotiate a fair transaction. For more information the hotel website is http://www.rinimapu.cl/ or you can call Carolina the owner on her cell 92312204
There are 2 takeout options. The first is at a bridge over the SP. To reach this point return to paved road and turn left following road towards Los Lagos for 22 KM. Takeout on river left as there are stairs and a handrail cut into the steep dirt face. Continue downstream for another 8-10 KM and there is another takeout option at balsadero (where a boat ferries your car across the river). There are small signs for the balsadero San Pedro so be on the lookout. At higher flows usually towards end of November and first half of December a world-class 15 meter wide play wave/hole forms about 4 km below the bridge. We have had up to 7 kayaks on this at same time.

El Reloj rapid
In winter, spring and early summer the river is high volume in a wide range of 7,500 to 50,000 CFS. By middle to late summer the flow drops probably as low as 2,000 CFS. Rapids are all straightforward with one particular section sporting some Futaleufu style exploding waves. The river can be run in 4-5 hours but overnighting and camping/fishing on a sand beach is an attractive option.
At the time of this writing the future of the SP is very grim. The company named Colbun has secured necessary permits needed to damm the river in one of the many controversial megaprojects threatening Chile's free flowing rivers. Dynamite excavation has begun in earnest. It may your last year to run this world class river so make all efforts to get there before it is gone…I feel like I am writing what I wrote about the Bio Bio in mid 90's.
Other nearby rivers include the Curringue, Fuy, Florin, and Llancahue.