Rio Trafanpulli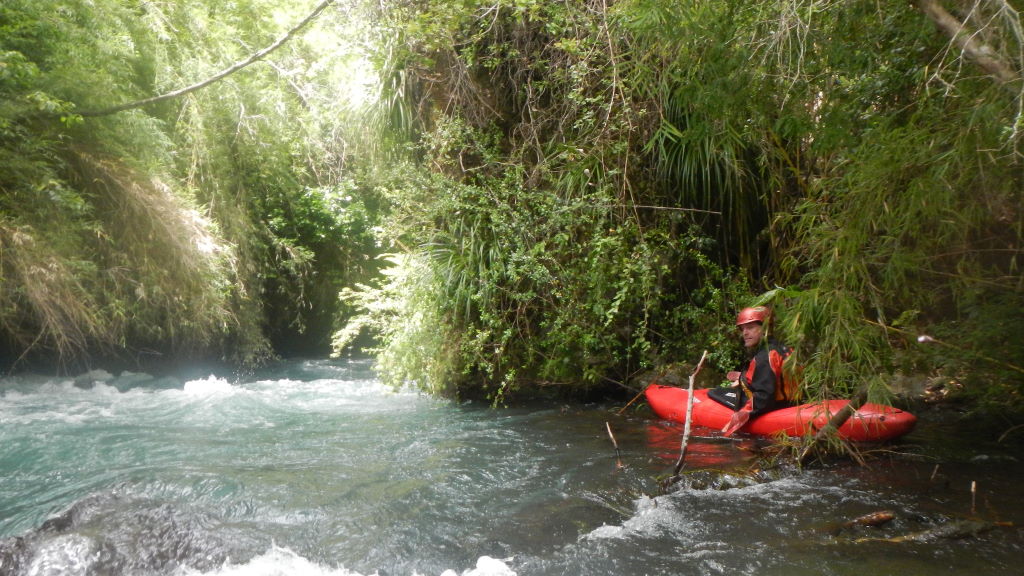 A rumbling steep creek coming off the permanent snowfields of Nevados de Solipulli is the Rio Trafanpulli. In local Mapadungo language the meaning is "junction of the valleys".

French kayaker Valentin Grollemund
I first started looking at this creek in 1995 but it was not until 2009 that I was able to get back to run it. Equipped with a good topo map, several days of rain, a good group and a newly constructed access road everything fell into place to add another class 4-5 steep creek to the countless options in the Pucon area.

In the canyon of the Trafanpulli
The river is a bit of a geological mystery as it comes within 400 meters of entering Lago Caburgua but then swings northwest and continues another 12 KM before entering Lago Colico. At very high flows some water spills into a flood channel and indeed enters Lago Carburgua. This unique feature means that one river can split and feed two distinct drainages that each runs its parallel course before once again joining each other 80 km downstream where the Allipen joins the Tolten.
To get to the river from Pucon there are two options. Both options take more than two hours although neither option is more than 140 KM. Option 1 is go west to Villarrica and cross over Tolten bridge on main road towards Temuco. Immediately turn right and follow newly constructed road to Pedregozo. From there continue north either on the Interlagos road or the road towards Los Laureles. At a T junction turn right towards Lago Colico and follow its north shore to Puerto Trafanpulli. Continue east and you will begin passing over bridges over the Rio Trfanpulli. Each has a sign with its own bridge number.
The other option is leave Pucon and go east to Curarrehue then north up the Machin valley thru Reigolil and westward down to the Trafanpulli.
Elevations of bridges 2-5 are as follows along with distance between them.
Bridge 2 is at 359 meters and it is 3 km to bridge 3 at 393 meters elevation. It is then 5 km to bridge 4 at 424 meters elevation and another 6.9 km to bridge # 5 at 481 meters elevation. Whitewater is minimal on the bridge to bridge sections but logistics are simple. For the real whitewater us bridge 5 as takeout and proceed east on main road for about 3 km. There will be a turn off to the left with a sign "Al Cercon". Most likely this gate will be locked and you will need to park the vehicle, climb over the fence and begin hiking with all your gear. After hiking for 3 km (40 minutes) and climbing 200 vertical meters you will come to gravel road forking off to the left with a sign saying "El Zapato". Follow this road for approximately ½ km as it descends down to a bridge over the river.
This section of river is 4 km down to bridge number 5. The put in is at around 685 meters. We chose to get off the river about 1 km prior to bridge # 5 where we could see the road and from there walked back to get our vehicle 1 KM upstream. The 3 km stretch we ran dropped 185 meters for average gradient of 62 MPK or 310 FPM. We had a estimated flow of 250 CFS which was scratchy and a bit disconcerting at the beginning but as the river quickly channelized in a mature bedrock canyon, the flow proved to be acceptable. Another 100 CFS would be optimal but anything over 500 CFS would be too high. There were 2 short portages that may have been runnable with a little extra juice otherwise the drops were continuous and clean with the largest being a 5 meter falls. For the intrepid boat hiker the maps indicate an additional 2 km stretch upstream with average gradient of 50 mpk but one 300 meter section where river drops 50 meters that must be peppered with waterfalls.
I have seen the river in late January and it had the same flow as when we did it on a rainy spring day on December 1st. For that reason I would guess the run is boatable thru the summer months as the main source of water is snowmelt and groundwater.
Note: Take food and beer and fill your vehicles tank as the nearest stores are at least an hour away.
Other nearby rivers include Blanco de Caburgua, Solipulli, and Truful Truful
Topo maps are very useful and 1:50,000 are available from the IGM Instituto Geographica Militar. The river spills onto two maps with titles being Nevados De Caburgua G-06 and Lago Caburgua 3900-7145