Rio Yeso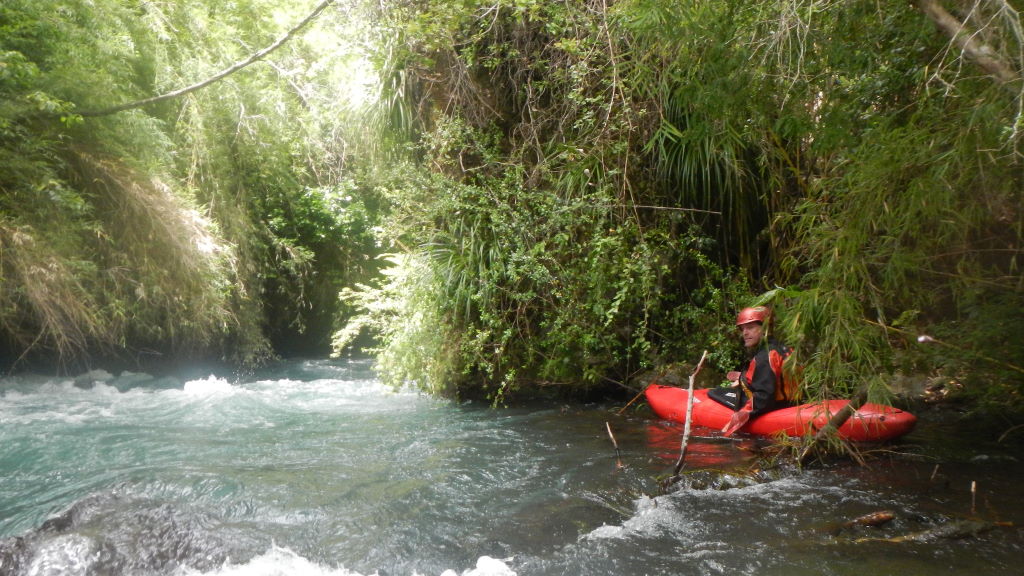 The Yeso is an class 4+/5- creek run in the headwaters of the Maipo Valley. The source of the river are the high peaks on the Argentinian border near the Termas del Plomo. The highest peak is Cerro Marmolejo at 6108 meters. The run is only 3 KM long but with easy logisitcs and is lots of fun. Usually the rivers in Chile are brown and muddy North of the Maule but this river is an exception to the rule. The reason is the river has a dam above it. the run is just above its confluence with the Maule.
To get to the takeout head up the Maule canyon thru San Alfonso then continue thru San Gabriel until you reach Puente Yeso. This is the takeout. To reach the put in cross the bridge and go approximately 1 km and turn left on the road to Embalse El Yeso. Go 2-3 KM upstream until you find a good place to hike to the river.

Brent Heitzenroder scouting a tight spot on the Yeso
The river can often be too high in late spring early summer but due to unknown flow schedules of the dam it is hard to know in advance. The best wasy to find out is go to the takeout and look at the river. If it looks good then it will be.
The average gradient on the river is close to 200 FPM. Mellow flows are 100-400 CFS. Above this level the river gets pushy and turns into continuous class five. Other good runs in the area are the class 5 Volcan and the big water class 4 upper Maipo. Yeso is Spanish for "Plaster" and named for the Gypsum mined in the area.